Time-limited campaigns come in many forms and shapes. It could be a Black Friday special or a special Golden Anniversary. With temporary campaigns comes a lot of work. Some websites redesign their whole main page. Some e-launch sales and limited offers.
All the work and time can be costly, but big brands know it's worth it.
However, when you're a small brand with a tight budget, investing in keeping your site updated can cost you both time and money. Fortunately, there is a way to ensure only the most relevant and updated information stays on your sites.
It's called Link Expiration, and here's how it can help your brand.
What is Link Expiration?
Link Expiration is a feature short links have that allows a user to put a limit on a link. You could set a date and time the link will expire and where users can be redirected after. You could also set its expiration based on the number of clicks. So, if you set it to 1000 clicks, only 1000 visitors may view the link before the next ones who click it will be redirected.
Why Expiring Links Are Perfect for Time-Limited Campaigns
It's highly unlikely for a brand to succeed without having a bit of online exposure (or, at the very least, its own page). And link expiration helps you improve your online game. There are several ways it does, but here are the top four.
1. Say Goodbye to 'Service Errors'
Have you ever tried clicking on a link only for it to lead you to a service error? Have you ever experienced these service errors with established brands? What did you think of the website that produced that link?
While service errors can be frustrating, they are a problem you must consider when launching time-limited campaigns. Producing links for temporary uses with no expiration will result in a service error sooner or later.
As a brand, links that lead to service errors are what nightmares are made of. You never want to give your viewers dead ends. Keeping links or pages that lead to service errors makes you look both sloppy and unprofessional.
Small errors like these are very seldom in big brands because they know how some viewers judge a brand on how seamless and helpful their online site is.
2. Avoid Disappointing Customers
Throughout the year, special events happen that can spark up your brand's inventory or services. For example, you may want to hold something special Easter-related in April. Special designs or service packages may perhaps increase sales.
These events help customers discover your brand throughout the seasons. Thwie limited time or availability is also a strategic way to encourage customers to participate in something that happens only once a year. With a time-limited campaign, you're trying to tell your customers, "Hey! Get these while they're available! We may never do this again!"
Doing special, temporary campaigns have proven to drive traffic and sales for several companies in the past. However, one must be careful in handling such events. Our links for time-limited campaigns must also have a time limit on them.
If your links from temporary campaigns remain even after the campaign and its offers end, you're bound to disappoint customers and perhaps frustrate them too. Think about it; if you found an ad that showed that an item you liked was 4️0% off or in a special design, you'd get excited and click it.
When you're met with a service error, and you wouldn't even know where to find the item, you'd be disappointed too. Some people would even think your brand 'clickbait' them.  In times like these, link expiration becomes incredibly important. Never disappoint a customer with outdated links again.
3. Cover All Your Bases
Have you ever had that one chore on your mind that bothers you until it's done? It could be that pile of dishes that sat by your kitchen sink when you left for work. It could be the unfolded laundry sprawled across your couch. And now, it could also be all the links you forgot to delete.
When you set an expiration for your links, you choose peace of mind and avoid mistakes caused by carelessness. It's insurance that there won't be useless links tied to your brand scattered across the internet.
4. Set Up Link Exclusivity By Limiting the Number of People That Can Click On It
Link expiration could also be useful for those who want to limit the number of views a page gets. This feature is great if you want to give out special discount codes or offer services to a select number of customers for a temporary period. You could also use this to limit the spread of information to only a few people.
For example, if you have about a hundred promotional items to give to your viewers, you could limit the number of clicks to a hundred to avoid more than a hundred people trying to claim them. With link expiration, several processes and updates run smoother.
Setting Up Link Expiration
Setting up expiration dates for your links is possible, but it isn't necessarily easy. If you're resourceful, you can learn how to set it up. After all, there are several available tutorials that teach you these things. However, if you want a simpler and hassle-free alternative, you may want to try Short.io.
Short.io makes setting up link expiration easy. You can set up link expiration according to the date and time or the number of clicks. Here's how it's done.
How to Set Up Link Expiration With Short.io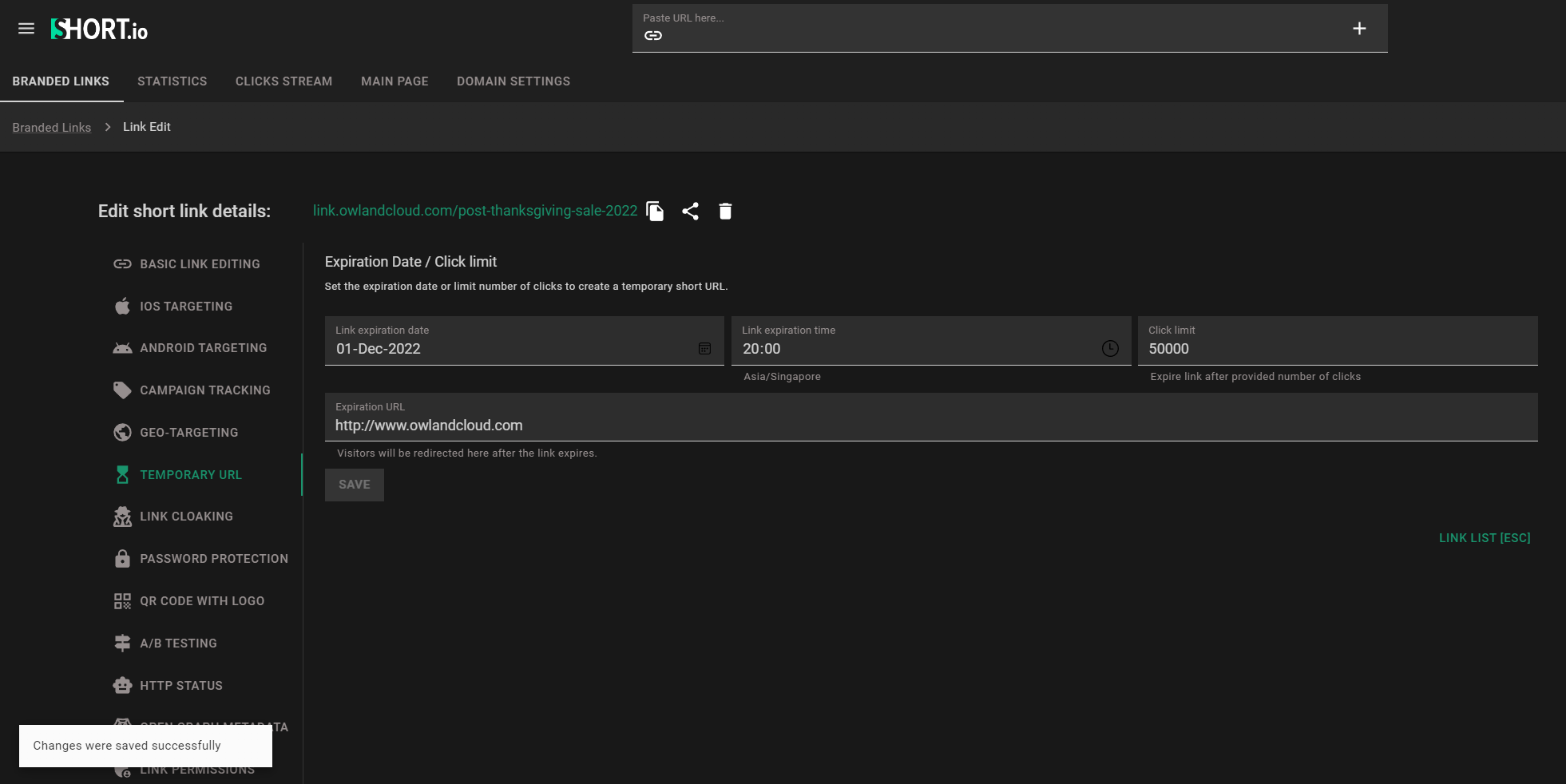 Log into your Short.io account.
Shorten a link.
Click on the Temporary URL icon (It's the hourglass icon).
(If the link is already existing, open it for editing)
Click the Temporary URL option.
Indicate how many clicks before the link expires.
(Note: Both human and bot clicks are counted. To avoid this, you will need to update your Search Engines Policy)
If the expiration is according to date and time, specify the date and time in the required fields.
Place a new URL in the Expiration URL field.
Save.
With eight easy steps, you're all set up! If you want a more detailed tutorial, Short.io's site offers a tutorial with pictures and more information.
Short.io Offers More
Short.io's link expiration feature is impressive, but it's only one of many. When you have projects or businesses online, you must equip yourself with valuable tools and features to succeed.
Features like detailed statistics and campaign tracking can provide you with information that could be instrumental for your brand's growth. Visit Short.io today and see which features can help your brand flourish.