Short.io for Enterprises is a reliable option to brand and manage links at scale. It has been prepared for large organizations and lets you implement custom solutions that integrate with advanced processes for big teams.
The enterprise plan is freedom; therefore, Short.io enterprise users have no limitations in using the service. On the contrary, the enterprise features are full of advantages.
Single Sign-On
Save time when creating accounts for a big team. Sign members of your organization on to the URL shortener automatically. As a corporate administrator, you may allow members of a corporate email group to log in to Short.io without registration. With SSO, Short.io handles the identity verification process, so your team members may log in without creating passwords. A team member logs in to Short.io using only the corporate email.
The advantages of SSO:
Simplicity. No password or registration is needed. Logging in is clear and simple.

Speed. It takes five seconds to log in to Short.io by specifying a corporate email.

Security. Users don't provide any personal information, so they don't need to worry about hacker attacks.
Service Level Agreement
Short.io provides SLA of 99.9% uptime, which means that if short branded links are unavailable for 3.75 hours in sum for one month, Short.io will refund $150.
Short links uptime was more than 99.9% during the last year. Short.io has failover in different Amazon availability zones, and the Short.io team understands how important it is to keep the links working. With SLA, a financial responsibility inspires us to keep short URLs available all the time.
Unlimited Plan Options
Short.io enterprise users aren't limited to the features—an infinite number of links, domains, redirects, and tracked clicks are all Short.io features.
Developers benefit from the unlimited options the most. When shortening links in bulk with API, the needed number of links could exceed 100,000. The enterprise plan allows for the creation of an unlimited number of links.
Team Domain
A tough task for an enterprise is to organize the work correctly. Thanks to the team domain, each member is aware of the responsibilities and manages short links from one place.
An unlimited number of teams might be added to an account; this is advantageous for a large-scale organization.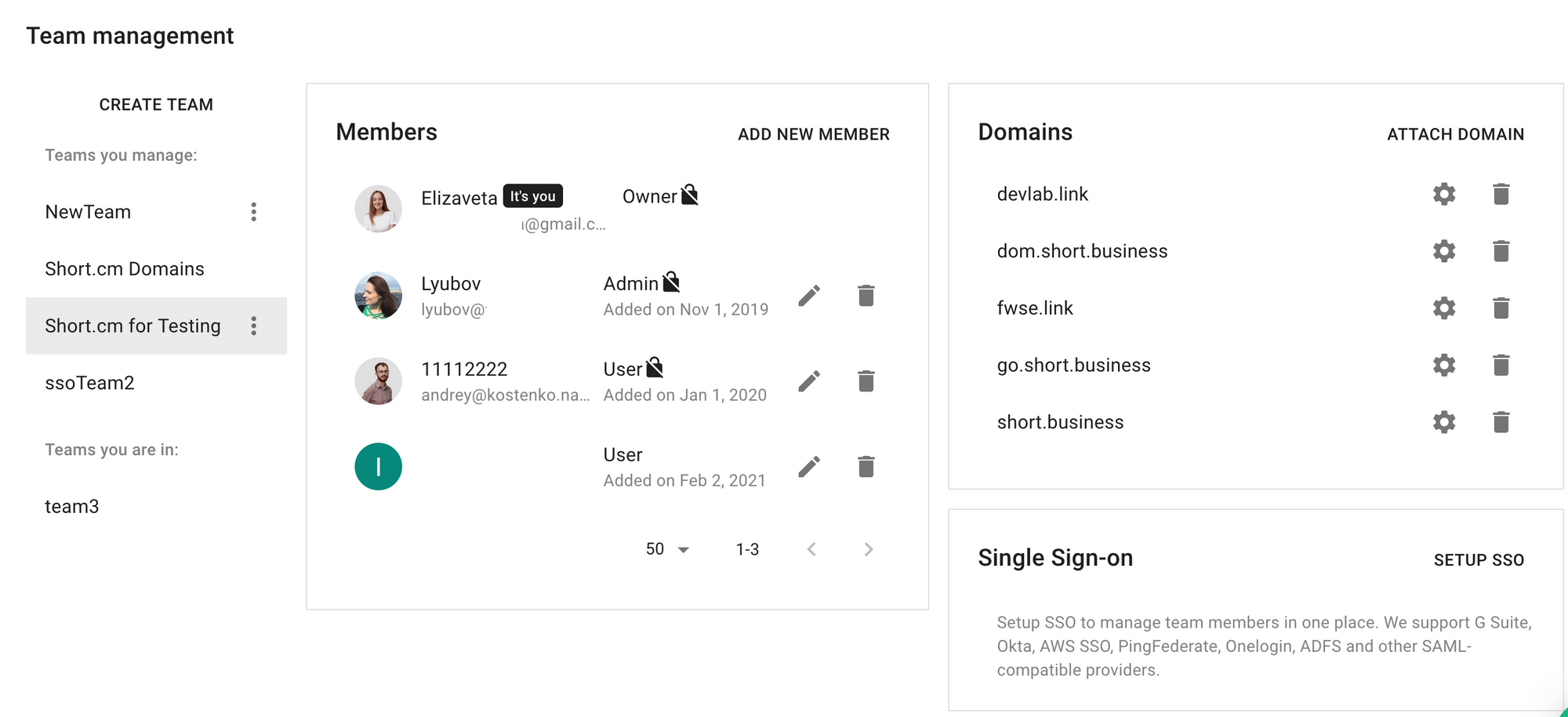 ACH Payment
An ACH payment is the electronic transfer of money from one bank account to another. A Short.io enterprise user may request an ACH payment if it fits his or her needs.
---
What did you learn?
Why does your enterprise need to use Short.cm?
How enterprises can use Short.io.
Advanced features for enterprise users.
Big teams find solutions on Short.io.
Developers create links in bulk with API.
Read also: