We understand the value of time and the challenges that come with managing a multitude of links. Whether you're handling a sprawling social media campaign, monitoring click-through rates, or organizing an extensive URL directory, one thing is sure: simplicity and efficiency matter.
That's where the magic of bulk link shortening comes into play. By condensing multiple long URLs into concise, easy-to-share links with just a few clicks, bulk link shortening empowers you to reclaim your time and streamline your link management process.
So, whether you're a professional working with a team or an individual tasked with managing tons of URLs, these are three ways you can use to shorten multiple addresses quickly.
Bulk Creating Short Links Using API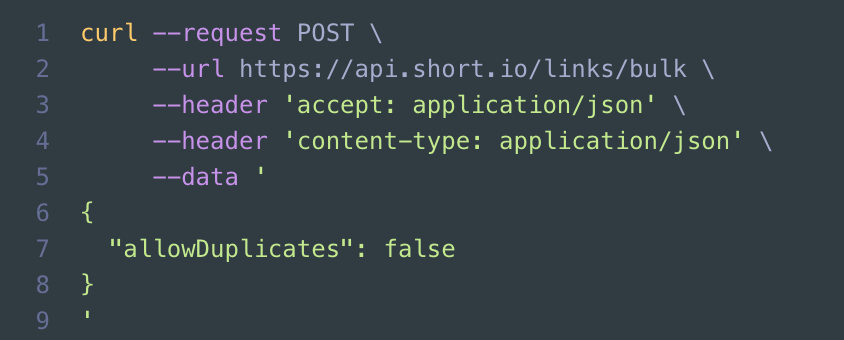 If you're a programmer or know your way around code, you can use API code to create short links automatically. This technique lets your short-link service provider create shortened links to all your existing pages in a flash.
It can even do it automatically every time you add a new page to your website—like when you publish a new blog post or create a new product page. With this feature, you can save time while avoiding erroneous entries due to manual uploads.
Thankfully, you can use Short.io to bulk-create short links via API. With Short.io, you can shorten up to a thousand links in one API call and create up to five requests every 10 seconds. This means you can make around 30,000 unique short links every minute.
Short.io even lets you create a free account and has a guide on high-volume short link creation, so you can test it before committing to a subscription.
Shortening Links With a Bulk Create Sheet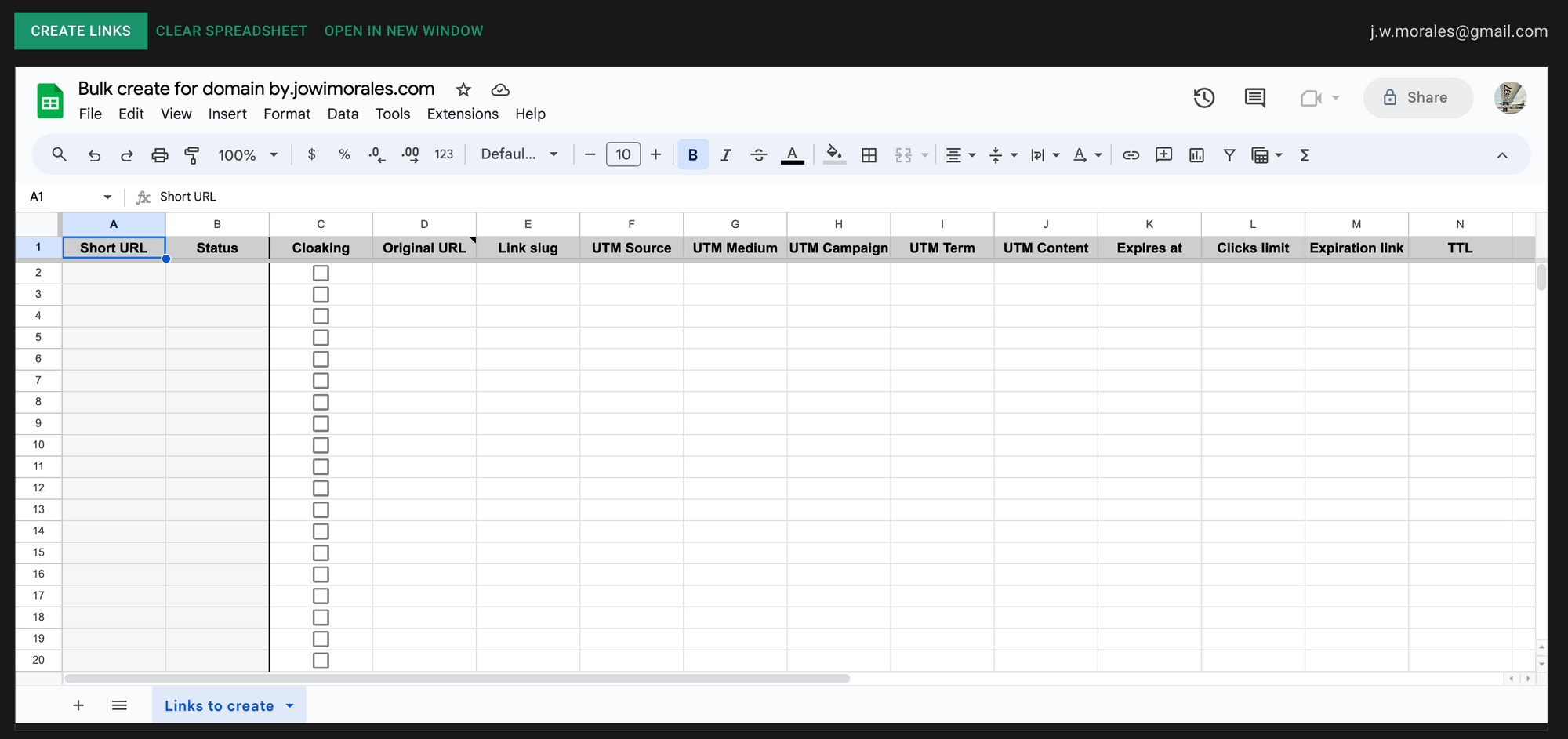 While the API solution automates short link creation, it requires programming language know-how. However, that doesn't mean you can no longer save time without learning to code first.

Short.io allows you to create links in bulk just by using its built-in Google Sheets tool. Here's how to do so:
Log into your Short.io account. You can create one for free if you don't have one yet.
On the Short.io dashboard, ensure you're on the Branded Links tab.
Click on Bulk Create located at the upper-right corner of the page.
If this is your first time using this tool, allow Short.io access to your Google Sheets account.
Once the Google Sheet tool loads on your Short.io account, you can start filling in the details. Enter your desired slug in the Short URL column and the original address under the Original URL column. Depending on your desired outcome, you can also fill out the details in other columns.
After filling in all the necessary details, click on Create Links and Short.io will complete the process automatically.
With this tool, you can quickly create short links for all URLs without inputting all the details individually, saving you a lot of time and effort.
Bulk Creating Short Links via CSV Import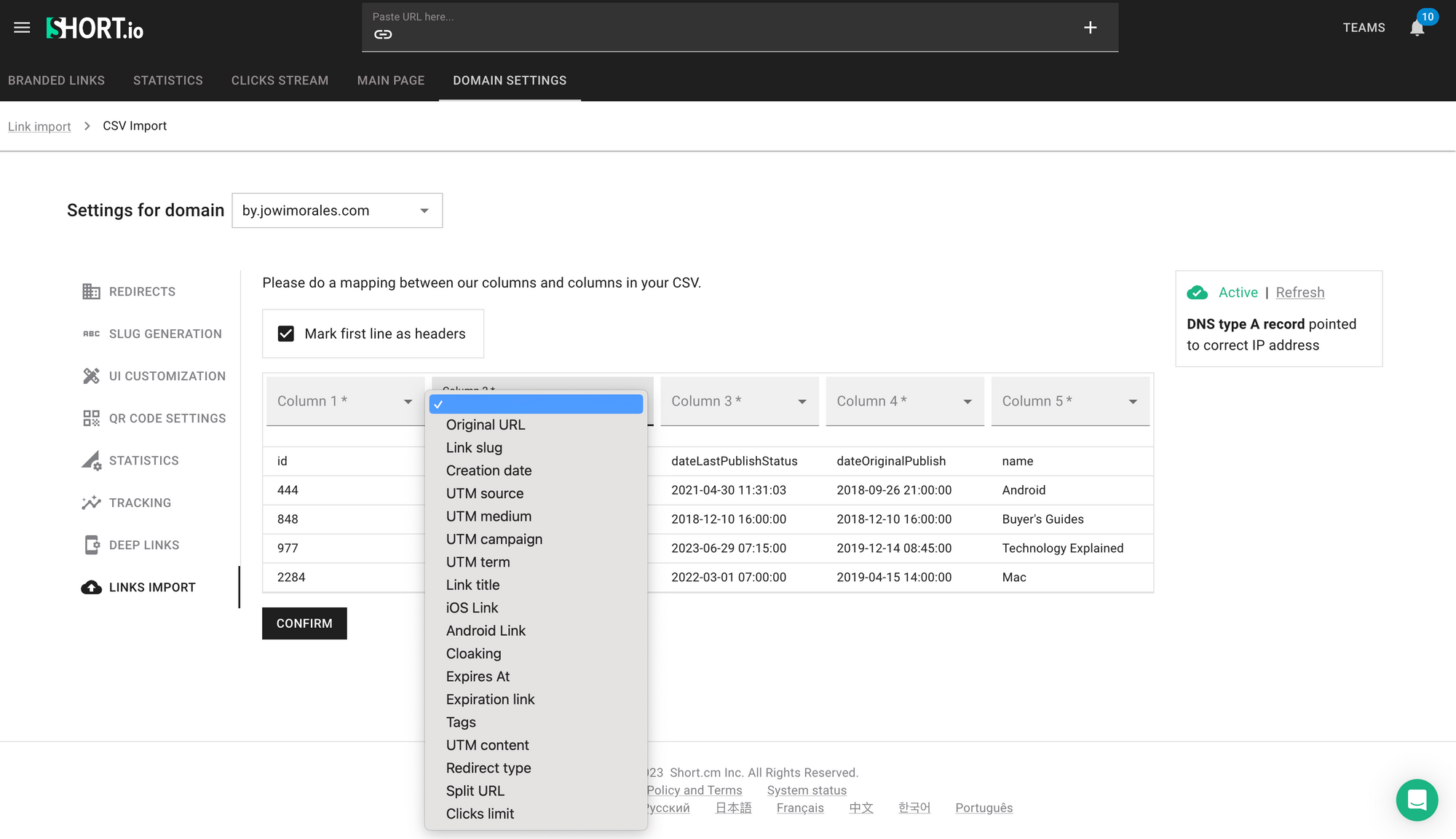 Migrating from one short link provider to another could be a hassle, especially if you already have hundreds, if not thousands, of short links. Thankfully, Short.io helps ease the transition with its Links Import tool.
This tool allows you to import Bitly or YourURLs files to move your entire short link directly in a jiffy. And, if you're coming from another third-party short link provider, you can import all your links via CSV file.
Here's how to do it:
Export your links from your current URL shortener into a CSV file. Each provider has its own steps, so you'll have to check how to do it with them.
Log into your Short.io account, then go to Domain Settings.
In the Domain Settings page, click on Links Import.
Upload or drag the CSV file into the Links Import page.
Once the CSV file loads, map the CSV fields to the correct heading to avoid any errors when importing your data. Once done, click Confirm.
After this process, all your links will load into your account. This ensures a smooth transition to Short.io, ensuring that none of your existing links experience downtime.
You can follow our more in-depth guide on importing CSV links if you want to know more.
Short.io—Your All-in-One Solution for Efficient Link Management
Short.io saves you time and effort by allowing you to create short links in bulk. Whether you're into programming, moving from another short link provider, or just want an easy and simple way to shorten many URLs, Short.io has a solution.
The steps above will help you save time, reduce errors, and gain deeper insights into your campaigns. But if you want a more in-depth guide, jump on to the Short.io help page to see more detailed steps.
With this bulk link-sharing tutorial, you save time, reduce errors, and gain deeper insights into your campaigns, making Short.io the preferred choice for efficient and effective link management. Simplify your marketing endeavors with Short.io and experience the benefits of all three methods in one unified platform.