Instagram is a stellar social network, which has transformed from a simple tool for sharing photos to a massive advertising platform. Now Instagram is an enormous service for brand promotion. There are many successful companies, which has become famous thanks to Instagram.
However, not all the brands are succeeded in Instagram promotion as it has quite complicated algorithms. Let's take a look.
Impressions. If the followers comment, like, and share your posts, Instagram increases the reach.
Relevance. Instagram shows the posts to users who've already been interested in similar publications. To do this, Instagram scans photos, keywords, and hashtags.
Interaction. Primarily Instagram shows new posts to users with whom you often communicate in the comments or Direct.
Duration of reading the post. The social network takes into account how long the user views the posts. Then Instagram primarily shows the content the user reads longer.
How to Boost Instagram Impressions
Launch Advertising
Advertising plays a key role on Instagram. A successful brand promotion on Instagram is impossible without advertising. Whether it's targeting advertising or advertising via celebrities – you need it to boost impressions.
Publish Relevant Content
It is essential the message matches the interests of the subscribers. Therefore, before launching marketing on Instagram, determine your target audience. The simplest way is to put yourself in the shoes of a potential buyer. Every time you write a post or choose an illustration, think of whether your potential customer will be interested in a publication or not.
Communicate with followers
Motivate followers to like and comment on your posts. For example, when sending a photo with a product of 2 different colors, ask the followers which color they prefer more. You'll get both comments and likes.
Use Short Links
Bio is the only place to use a clickable link on Instagram. As Instagram limits the number of characters up to 150, shorten a link. This helps to save some space, keep your profile engaging (without scary links) and lets users quickly remember a link.
Moreover, using a short branded domain, not a generic one, helps you to promote a personal brand. Short branded links are memorable and trustworthy. Generic ones, on the contrary, may be associated with spam.
By customizing a slug, you may include the call to action phrases, like "shop," "order," "get," and so on. Most worldwide brands use custom short links, as that's convenient and effective.
Adidas is an example of using a branded short link on Instagram bio. The link has a branded domain and a configured slug, which lets users guess the idea of the content.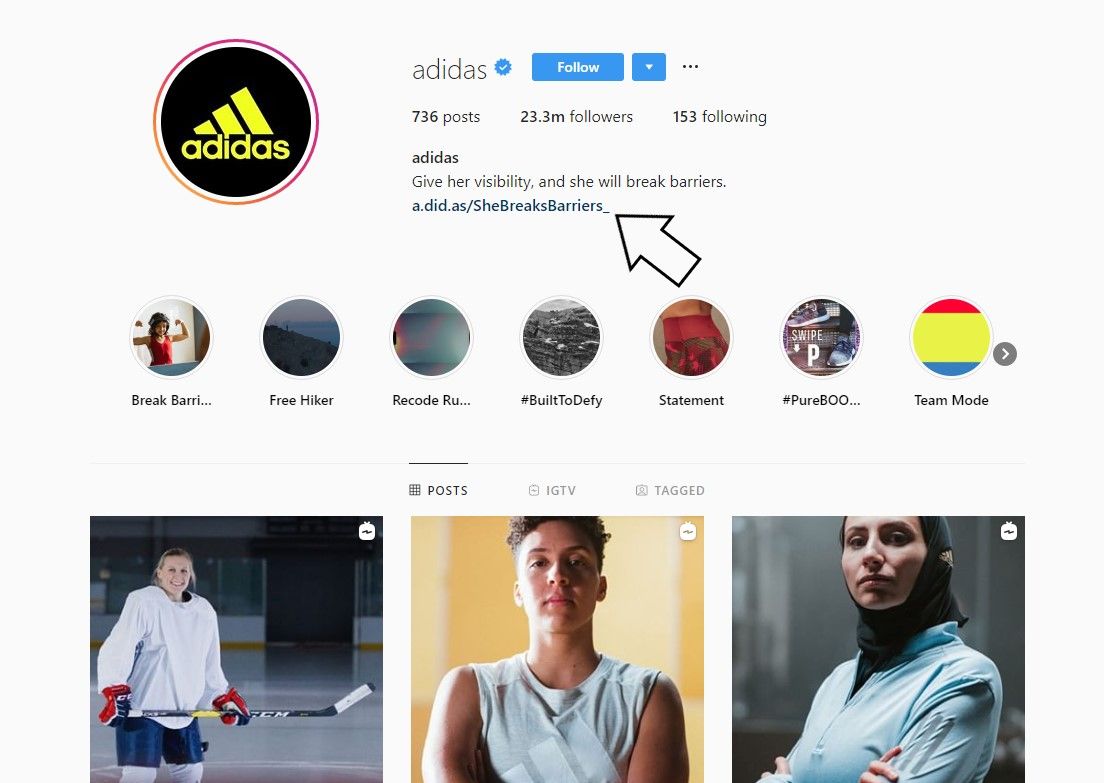 Instagram is a cool marketing platform. The last updates make it more exciting and profitable. Shortening services will just help to make the most of the Instagram.
---
What did you learn?
Short links on Instagram.
Ways to use short URLs on Instagram.
Short.cm and Instagram.
Read also: