Building a business online is not an easy task, especially where online popularity is becoming an increasingly sought-after asset. The market is highly competitive. Everyone is trying to find new ways to grab a consumer's attention. Thousands of strategies have been formed, lesson plans on building online popularity have been studied, workshops have been created, and more.
However, a simple tool that is often overlooked is the short link's campaign tracking. Campaign tracking is a simple and inexpensive tool that can help you with both online advertising and building an online following.
Let's check out how one of Short.io's features—Campaign Tracking—can help you get the most out of online advertising.
What is Campaign Tracking?
But first, what exactly is Campaign Tracking? Simply put, Campaign Tracking is an organized and systematic way of finding out how people reached your site. It can also tell you how many users from each platform get to your site.
You can do this by placing certain UTM tags on links you post across social media so that a UTM tracker can count how many users come to your site through every tag.
For example, if you post links with specific tags on Instagram, Twitter, Facebook, Tiktok, LinkedIn, etc., the UTM tracker will be able to detect how much traffic every social media platform brings in. It can tell you how many people came upon your site per platform.
Campaign tracking isn't only limited to social media platforms. UTM parameters can track advertisements via emails and even links you get offline through physical advertisements.
Why Is Campaign Tracking Important?
If you're a person who doesn't care for an online presence, then perhaps this feature isn't for you. However, for the individual hoping to build an online presence, Short.io's Campaign Tracking feature may just be a lifesaver! The beauty of this feature is that it tells you which platforms are succeeding or underperformed when generating traffic.
This is helpful when it comes to your game plan. If you're merely hoping to advertise a product, finding out which platform brings in the most traffic and concentrating your efforts on it may be the way to go. When you have UTM Parameters, prioritizing fast, instant results can be achieved.
For example, if the platform that brings in the most users is Instagram, investing in influencers and learning how to manage their business profile options is the way to go. If your UTM tracker shows that Twitter brings in the most engagement, investing in ads and promoting your tweets may be viable.
If your game plan is to establish an online community, the Campaign Tracking feature is just as handy. While promotion doesn't necessarily need a large following, establishing an online presence requires a large and active following across different platforms.
Campaign Tracking can tell you where you need to concentrate. By indicating which social media sites are underperforming, you would be able to decide whether you should invest money in growing your following. When you have the relevant data, making the most informed decision could be the key to growing your internet popularity.
The UTM tags and parameters aren't only limited to platforms—they may also be applied to specific posts and articles. So when you post an ad on Twitter or Facebook, you can use the campaign tracking to figure out what type of post gets the best engagement.
This is particularly helpful for finding out what type of content goes well with your viewers. If posting memes gets the most interaction, it could be an indicator to post more humorous content. It may even give you clues on the age range of your audience. If posting tips on particular subjects generate traffic, then that could be a sign to post more tutorials.
In conclusion, campaign tracking can guarantee the information you need to make the best decision for your online purposes. Campaign tracking can ultimately tell you what content your viewers respond to the most.
How to Set Up UTM Parameters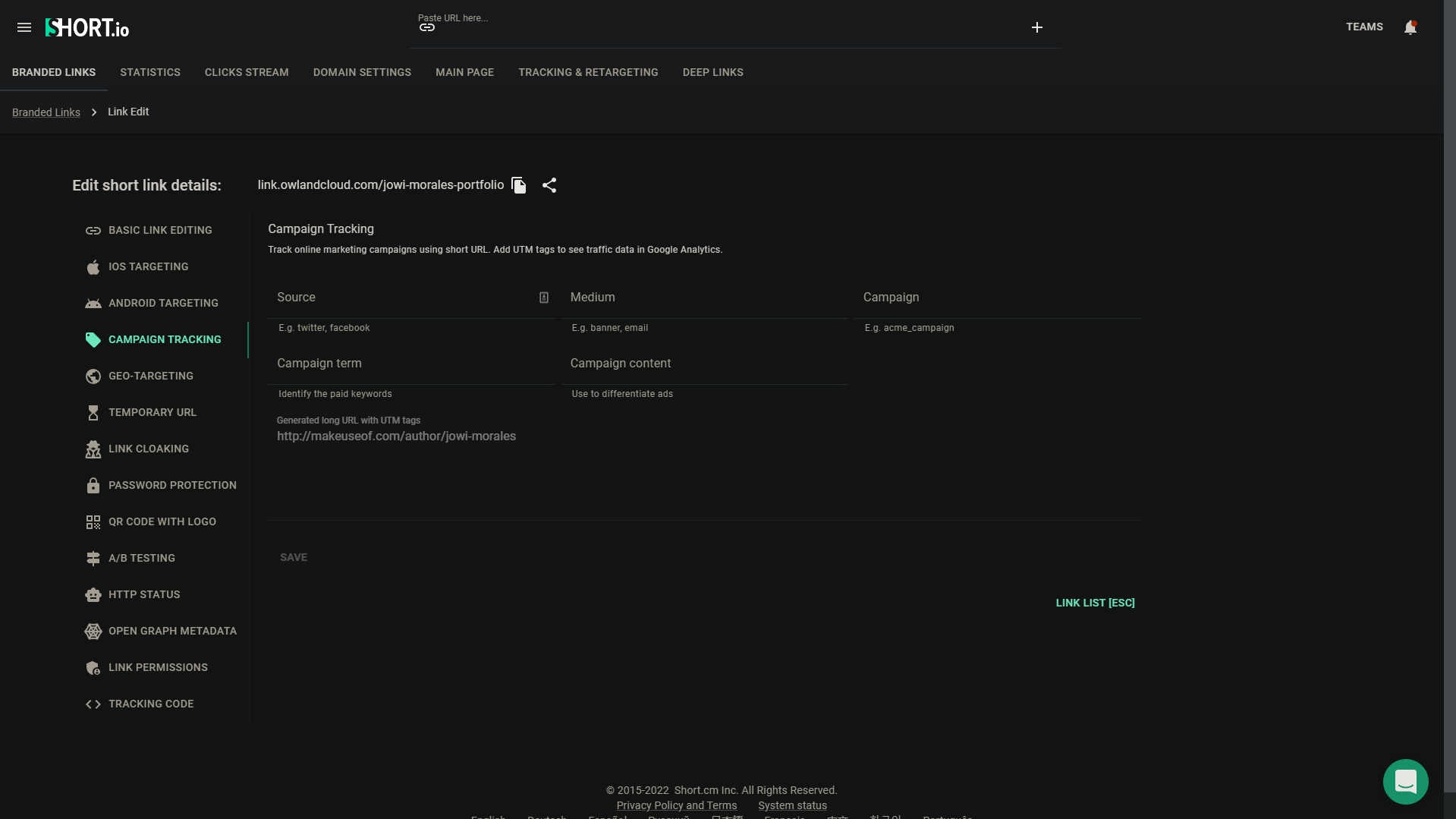 Despite its advanced features and accurate statistics, getting the Campaign Tracking feature (also known as the UTM Parameters) up and going can be a simple task when you use Short.io. This feature is available in every Short.io price plan to ensure you get the best out of your Short.io experience.
Here's are a few quick and easy steps you can follow to set up the UTM Parameters:
1.       Log in to your Short.io account.
2.       Shorten a link.
3.       Click on the "Campaign tracking" feature.
4.       Choose the option "Campaign tracking".
5.       Place the UTM tags onto the required fields.
6.       Click "Save".
And that's it. With six simple steps, you get the benefits of reliable statistics. Short.io also integrates its program with Google Analytics to get more detailed insights on email marketing and access to better advertising campaigns.
Short.io and All Its Options
Using Short.io for your campaign tracking gives you access to several more features Short.io offers. Short links have been an incredible online tool used by the biggest brands across the globe for years.
Although campaign tracking is a valuable feature it possesses, there are several more that are sure to help you with every online endeavor. Checking out their site and viewing all the features may just prove to be an asset to whatever online project you plan to launch.
Connected to the Modern World
The internet is becoming more and more relevant to our daily lives. Millions of jobs rely on its existence, and millions more use it every day to their advantage.
With the online world becoming a part of our routine, perhaps learning the ins and outs may be to our own advantage. Educating oneself on the works of links—the internet's primary source of transportation—could prove to be a wise and beneficial decision.