UTM tags play an essential role in marketing promotion. Short.cm shortening service provides all price plans with UTM tags feature.
UTM parameters tool is in a Short.cm dashboard in the «Campaign tracking» section. Using UTM tags with short branded links results in better online marketing campaigns tracking. After adding UTM tags, the traffic data is displayed in Google Analytics.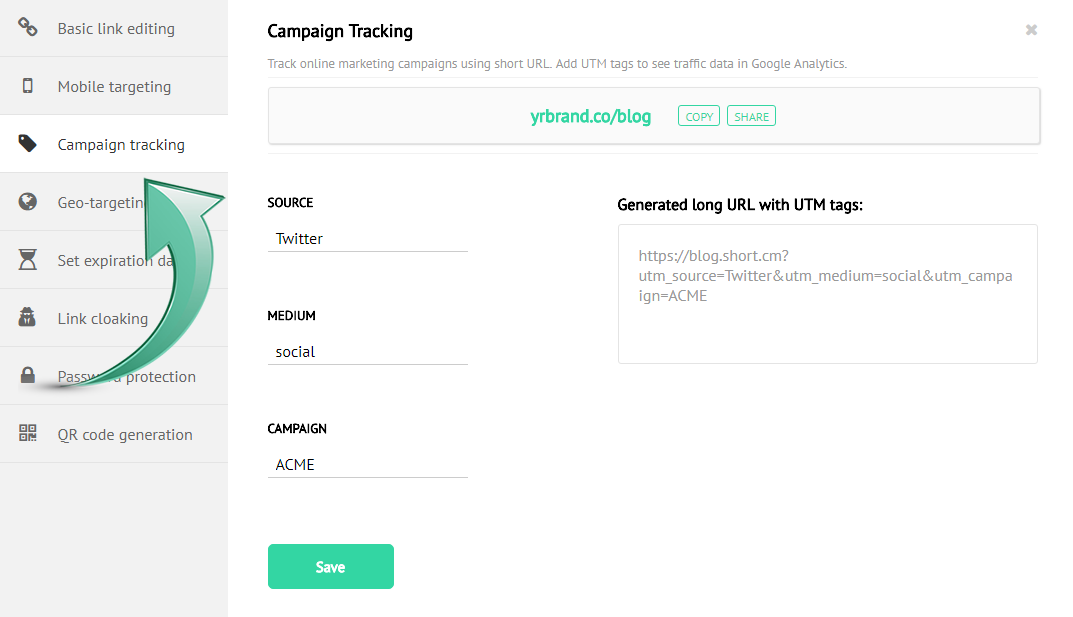 What are UTM tags?
UTM tags form an easy-to-use code, which you attach to the link. The code allows Google Analytics to tell you, which campaign redirected searchers to your site as well as from which website customers clicked on your link.
UTM code consists of three main parameters, which broaden marketing possibilities:
Source — e.g., Facebook, Twitter.
Medium — where the link was used: post, email.
Campaign — which campaign was used: new product or feature, sales.
UTM tags let you understand how much traffic particular post or mail got. You may use UTM code in emails; CPM, CPC, CPA campaigns; social profiles; blogs; and newsletters. The list is endless. Just be creative.
The example of the UTM coded link:
www.example.cm/sale-page?utm_source=twitter&utm_medium=social&utm_campaign=sale
Imagine that you have the e-shop, where you launch discount program for attracting more customers. For better results, you promote the discount page to observe the traffic. To realize how much users came to your page, you use UTM parameters and post a new tagged link to the Twitter page.
Next week you see that approximately 100 users click on your URL. Checking statistics, you notice that 70 users visite the discount page thanks to your link, but the other 30 visitors appear on the website from other Twitter sources. Thus, UTM tags let you estimate how effectively your Twitter post works.
Conclusion
UTM coded link is too long. This fact is the main reason to use Short.cm UTM tags feature. You add UTM parameters, but Short.cm doesn't display them. The links are short and memorable, but informative.
Thanks to the insights of UTM parameters and Short.cm short branded links the CRT of the URL is doubled and increase up to 50%.