There are over 6.92 billion smartphone users today, with over 98% using Android or iOS devices. With billions of users, many companies focus their advertising efforts on mobile users.
Mobile advertising makes your ads more likely to accommodate smartphone users better. They're also more likely to be viewed frequently, as many people use their mobile phones multiple times throughout the day.
But how do you accommodate the difference between iOS and Android users? This is where iOS and Android targeting comes in.
iOS vs. Android Targeting
First-time users of mobile targeting often ask, "Should I target iOS or Android users?" It's a fair question. Both have their own advantages. One operating system may be more popular in a particular country, while another may hold the loyalty of a demographic.
Android definitely has a larger platform, but that doesn't mean it is the obvious choice. While its platform may be larger, Android has lower engagement. They spend less time on their phones than iOS users, and less time spent on one's mobile phone means less opportunity to view an ad.
For in-app purchases, they're almost the same, with iOS being slightly higher. However, for subscription-based apps and services, Android takes the cake.
Android has a better push notification response rate. This may be because iOS users must manually allow push notifications while Android users allow it by default. While only 4.9 percent of iOS users open push notifications, Android users open 10.7%.
Push notifications matter as it shows a willingness to open content readers did not plan to read. This willingness could extend to different forms of advertisements as well. Android also adapts flexibility with app submissions, while iOS' tight security can sometimes hamper mobile marketing strategies.
Meanwhile, iOS may have a smaller platform, but they make up for it with more engagement. Their users spend a lot of time on social media, meaning they have time to scroll through content and watch ads in between.
They are popular amongst high-income users and first-world countries. Consequently, iOS users spend more per app. iPhones are also more popular among seniors.
Statistics like these cannot be taken lightly, as people with a higher income tend to be less guarded with their spending. While Android users are more open to viewing your ad, iPhone users will more likely spend money.
So, the question remains, "Which operating system should I advertise to?" The answer is easy. You should advertise to both. Depending on the service provider, setting up mobile targeting to target Android and iOS is easy and won't cost you more.
When you set up mobile targeting to both operating systems, you wouldn't have to worry about losing the advantages of either. You can sit back and let mobile targeting work its magic.
How Mobile Targeting Works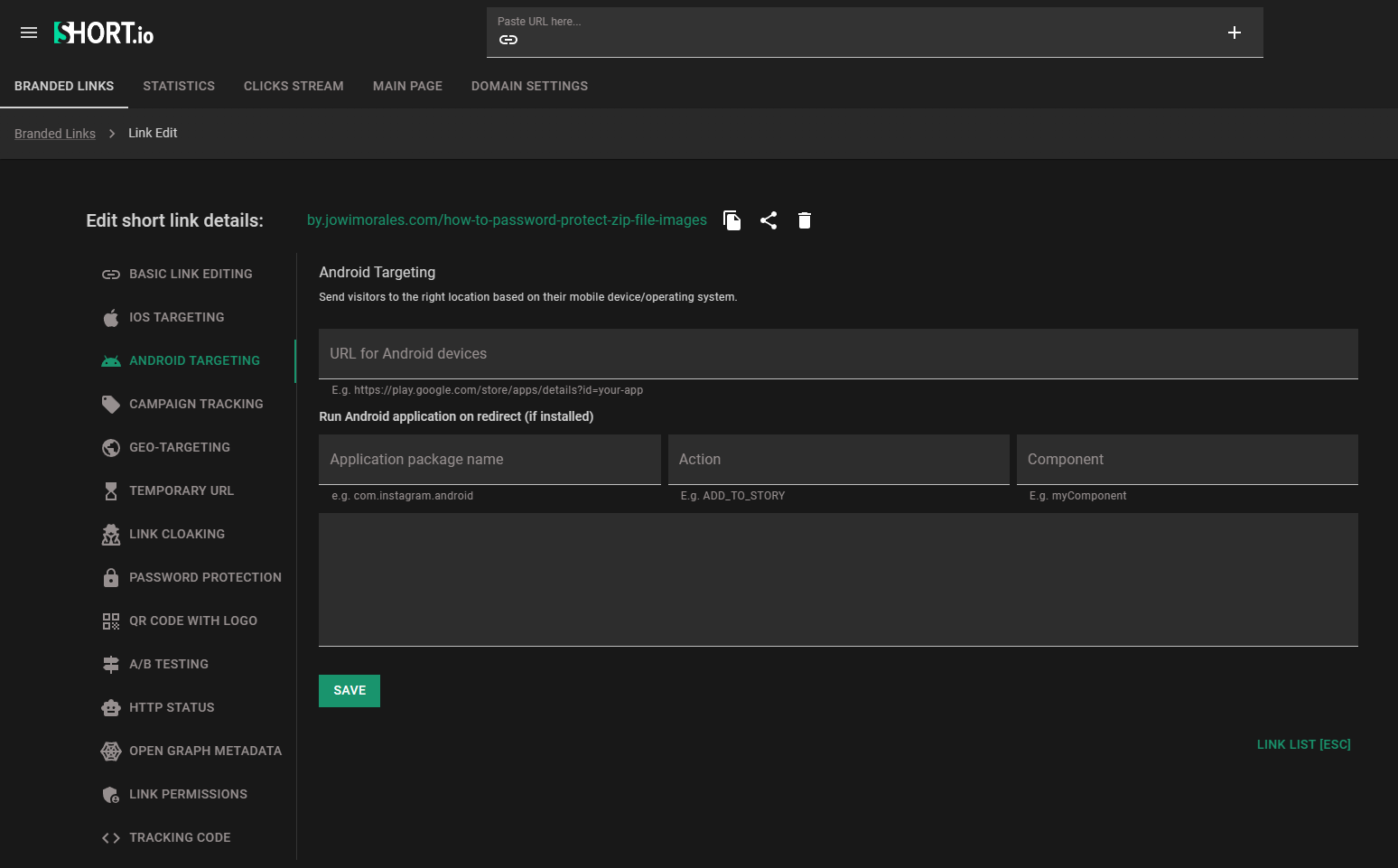 How exactly does mobile targeting work? Well, it happens through short links. You may think short links are just professional-looking links, but that couldn't be further from the truth. Short links pack a myriad of features inside of them—one of which is mobile targeting.
Our short links are pretty smart. They can differentiate between the two operating systems. So, when users click a link based on their operating systems, the short link redirects them to one of two different URLs.
There are basically two different URLs hidden in a short link, and whatever operating system a person uses will determine which link they are directed to. This allows you to construct different pages for different audiences.
How to Set Up Mobile Targeting
Different ways to set up Mobile Targeting exist, but we recommend Short.io. You can go through many tutorials, but with Short.io, Mobile Targeting becomes a breeze to set up. Here's what you'll need to do:
Log into your Short.io account.
Shorten a link. (If your link has already been created, open it for editing.)
Click the iOS icon.
Place the URL you want to redirect Apple users to and save.

Click the Android icon.
Place the URL you want to redirect Android users towards.

Add advanced settings (optional) and save.
With these simple steps, you can use this powerful tool to gain exposure and advertise. Head to Short.io for a more detailed tutorial on mobile targeting.
Short.io for Your Exposure
If your goal is to reach as many people as possible, Short.io is the company for you. It has dozens of features designed to maximize engagement and exposure. Detailed statistics, link retargeting, geo-targeting, campaign tracking, etc., are only some of the features Short.io has to offer.
Check out their list today and see which Short.io features can best accommodate you on your journey to success!
Modern Times Require Modern Practices
The world is changing. The world of advertisements is no longer ruled by TV and newspaper ads. With society moving forward, so should your advertising strategies. Educating yourself and getting familiar with the latest trends may just be what you or your brand needs to flourish.