Most of the internet focuses on spreading information and garnering attention. Mainstream media continuously writes articles involving celebrities' personal lives. Magazines and podcasts hold several interviews discussing controversial events. Marketing campaigns devise dozens of strategies to capture an audience's attention.
But what if you have exclusive information? How can you ensure that only those who paid for it can access your website? This is where short-link password protection comes in.
Here's why you should add a password to your page and how to do it.
Keep the Public Out of Pages That Are Under Development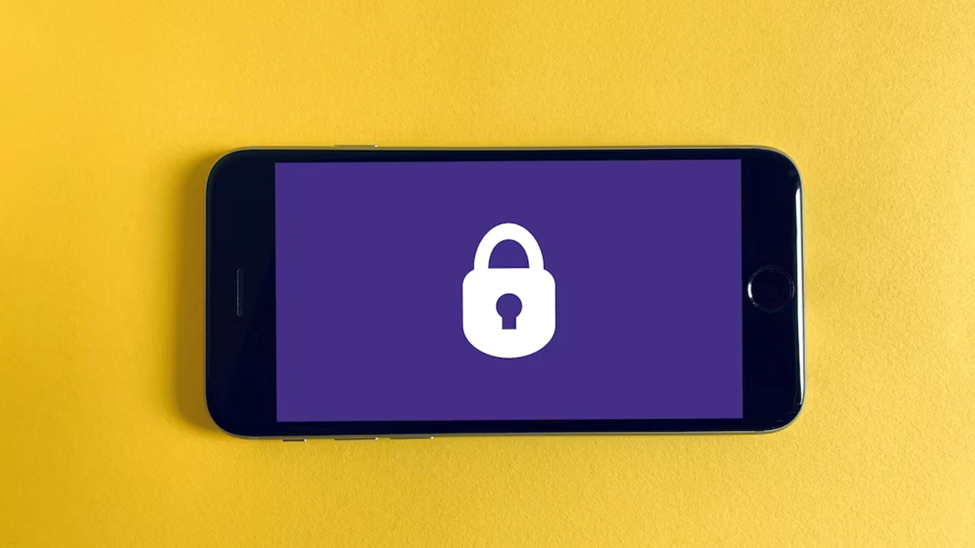 Even the biggest, multimillion-dollar brands can meet catastrophic decline when their marketing agencies or teams fail to ensure everything posted on their web pages is in line with their brand and acceptable to the general public.
For massive brands, several layers of approval and check-ups are often required before finalizing the contents and layouts of a published web page affiliated with their brand. The same meticulousness should be practiced even if your brand is starting or on a smaller scale.
So, with bigger or smaller marketing teams, perusing through the layout of a webpage for mistakes and inconsistencies before it is made available to the public is crucial. These precautions are made possible and easy with password protection.
When you use password protection for your site, you can publish your webpage and make it temporarily private. You can then give the passwords to the relevant members of your marketing team. There's no need to glance through previews or send the layouts of the website in a file and send them to your members.
Make a Private Website for Your Close Contacts
Millions of influencers, celebrities, and companies compete to attract the masses. Even your neighbors, friends, family members, etc., upload pictures and posts to social media platforms, hoping their posts reach as many people as possible.
While there's nothing wrong with that, several people also prioritize privacy. Some people want to connect with a more intimate group, like family members and close friends.
You'd think Facebook is a viable option, but what happens when you receive a friend request from a co-worker you see daily? What if you receive one from your boss? In this digital age, privacy is more challenging to maintain than publicity.
An alternative to social media could be making your own site. You can blog about your daily struggles, get personal and vulnerable about your feelings, write updates on your situations, and more. With password protection, you can even limit your audience to one.
There's no need to sacrifice the convenience of placing a single update online for all your close contacts to see. With password protection, you can keep your personal life private and limited only to family and friends.
Use Passwords to Limit Access to Paying Subscribers Only
Not all content is created equal. YouTubers, Instagram influencers, TikTokers, and even celebrities produce content for the masses to consume. However, creating extra, curated content exclusively for fans and subscribers who are willing to pay is becoming more common.
Here's where password protection comes into play. When you set up password protection, it can also be used to limit access to your website's content, allowing only subscribers or paying members to view premium content.
This approach can be especially useful for businesses or organizations that generate revenue through subscriptions or memberships. Password-protected areas can also be a great way to reward loyal customers by providing access to exclusive content.
You could have an option on your main page that leads to an exclusive site. By setting up a password-protected area, you can ensure that only authorized users can access your exclusive content while also protecting your revenue streams.
Protect Sensitive Information
If your website contains sensitive information, such as personal or financial data, password protection can be an important security measure to help keep that information secure. By requiring a password to access sensitive areas of your website, you can restrict access to only those who are authorized to view the content.
For example, you could create subdomains specifically for employees. In there, you could post updates on company guidelines, policies, and scheduled events. You could share trade secrets, confidential business formats, etc.
When you control who can and cannot read sensitive information, you protect your brand from copycats from other companies, lessen the possibility of data breaches, and conveniently spread information to those who need it.
How to Password Protect Your Short Links
If you want the contents of your site to remain secure, you'd have to use a trusted link shortener. When dealing with protected data, a free shortener is a risk. Most "free" sites remain up and running by selling your data.
Short.io is a reputable link shortener that offers a password protection feature—it makes placing passwords on sites a breeze. Here's how you can protect your links.
Log into your Short.io account.
Shorten a link and click the Password Protection icon.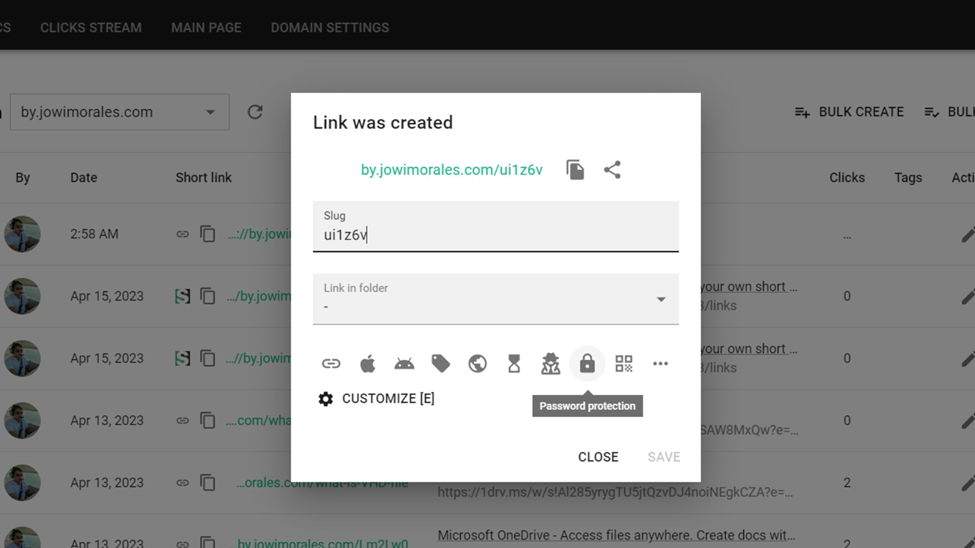 Click the Password Enabled and Allow visitors to contact me toggles.
Type in your desired password.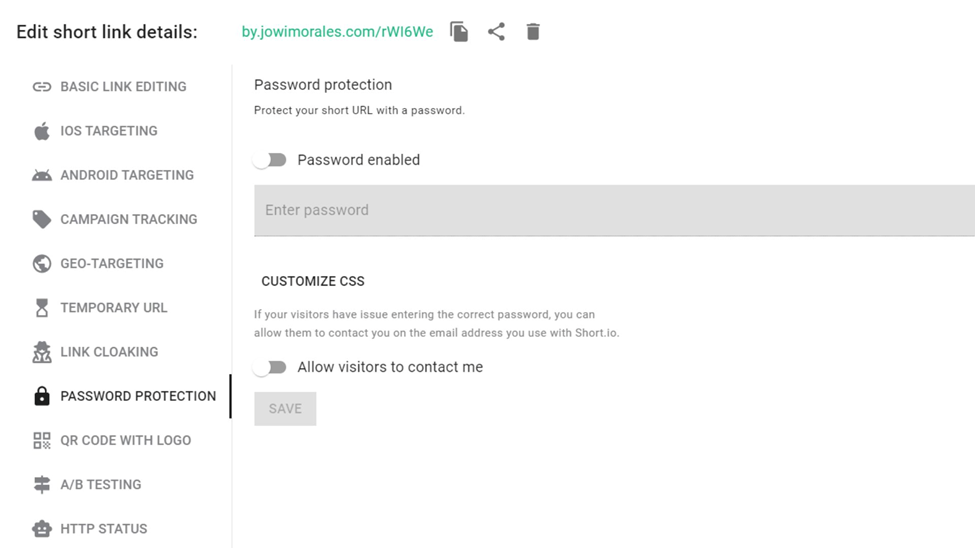 And with that, your short link is now password-protected. With this feature, only users who have the correct password can access this page.
How to Add Custom CSS to Your Password Page
Of course, nobody likes a generic password page. If your client or customer gets a blank white page with no branding whatsoever, they might get confused if they're entering the correct page. So, to give your clients the confidences that they're accessing the right website, you should customize your password page. Here's how to do that.
On your Short.io Dashboard, click on the Domain Settings tab.
Click on the Link Password CSS menu item to see the Custom CSS for password protection page text entry.
You can then input your CSS code to customize your password page. You can also check out some of our custom CSS examples to help you get started modifying your password login page.
Once you're done, click Save.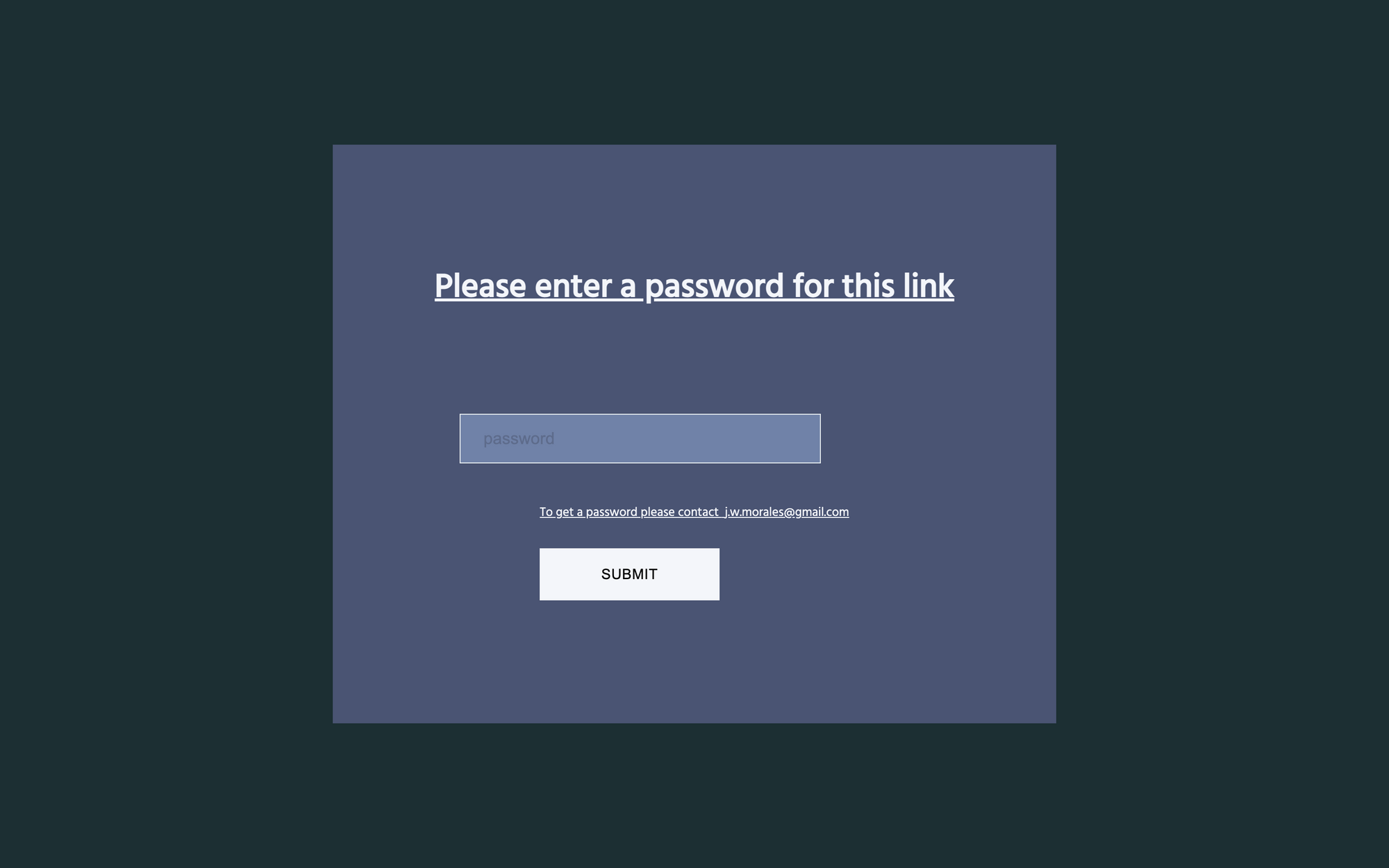 As you can see, it's easy and simple to customize your login page. You don't need advanced programming knowledge or hire a security expert—all you need is a little CSS knowledge and Short.io, and you're good to go.
Short.io Protects Your Data and More
Although Short.io can help you strengthen your online privacy, it can also shine in publicity. It has several features that can help generate traffic and increase engagement.
So, whether your goal is to limit the spread of information or to make it available to large audiences, Short.io is your pal. Visit Short.io today and check out which features work for you.