Email marketing has been around for years. It is assumed that everyone on the web understands email because we have been receiving and sending messages for years. Even my extremely nontechnical mother uses email, although she refuses to use text messages. The thought of spending 10¢ to receive a text message from her son is just too much. I love you, Mom.
So although (almost) everyone understands how to use email it doesn't mean that is the same as understanding email marketing. Not even close. As you are thinking about how to improve your email marketing efforts, make sure that you aren't committing any of these five mistakes.
1. Trying to Email Market Without an ESP (Email Service Provider) email list
What is wrong with the picture above? I tried to blur it out for the protection of the recipients, but this is an example of an actual company who loaded up everyone who had bought their product into the "To" line, typed up an email, and hit the send button. This violates the CAN-SPAM Act and can quickly get you blocked by your Internet service provider. Fail!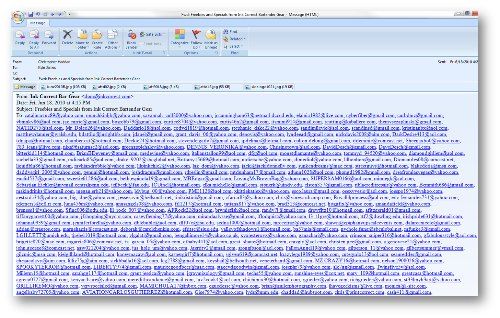 2. Not Knowing Your Recipients Gender
This screenshot was taken from a Banana Republic campaign sent to one of my good MALE friends. I love the ideas of companies sending sales and specials to their customers, but this is bad targeting and list segmentatoin. Fail!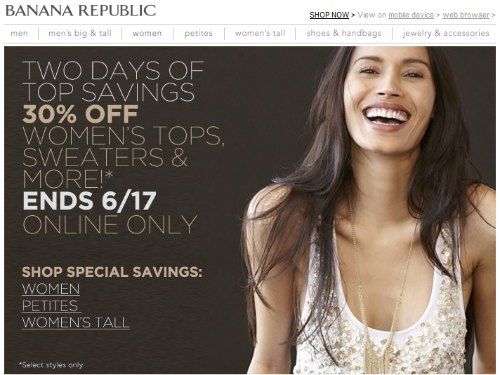 3. I Don't See Pictures Dude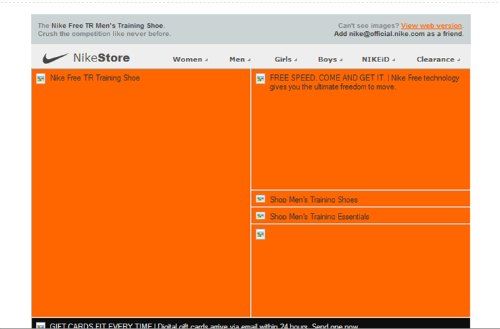 This next one is from the big swoosh gods at Nike. Notice anything weird about the screenshot? It has some nice orange and grey colors to it, but that is about it. Remember by default every email client does NOT display images. At least they gave us a view web version unlike the Eventbrite. Just take a look at the before and after pictures below. Could you even tell what that email is about? Fail.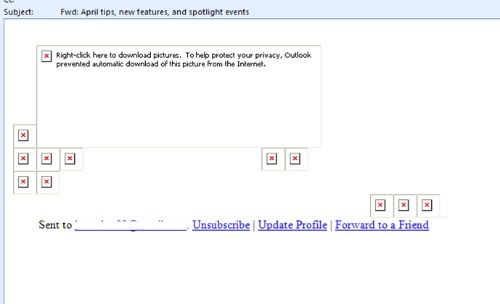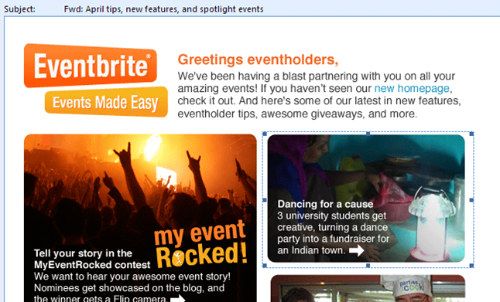 And I'm sure you wanted to know why the Nike email has the swoosh in it. Well that is a really fancy inline CSS job. Nice one Nike! Actually I'm being a little harsh on Nike here because I do enjoy their email campaigns, but remember one little rule email marketing rule:
Images should add, not dominate.
4. Not Having an Unsubscribe Option unsubscribe email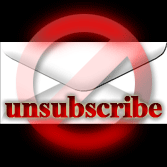 5. Landing In Spam/Junk Folders
There are a lot of ways that emails can end up in Spam/Junk folders, but I'll give you a few quick tips.
Don't get blacklisted
Images should add, not dominate – usually images lead to lower quality scores in the eyes of email firewalls
Don't include Viagra in your subject or body, or any variation of the word – sorry, I couldn't resist!
Have a text only option of your email
Do not include an attachment – anything that looks like a virus will be considered one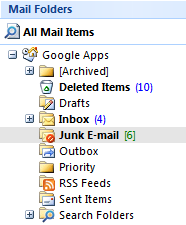 Marketing Takeaway
At the end of the day email marketing can drive valuable traffic back to your website. Do not forget that. You can't convert readers into leads and customers just by using an email, can you? No, they have to come back to your website and fill out a form or some other way of connecting.
Sure, someone could respond to your email saying that they are ready to buy today, but let's be honest, how often that will that really happen? Instead focus a sending compelling articles to relevant groups of your e-mail list and provide clear opportunities for them to convert into leads and customers.
Written by Kyle James
---
The article is about:
Mistakes in email marketing.
How to avoid email marketing mistakes.
Short links in email marketing strategy.
Read also: