Being an influencer is a dream for many. Traveling the world and taking breathtaking and aesthetic photos, gaining revenue from posting about your life and hobbies, and even the ego boost of knowing thousands (if not millions) are curious enough to follow you—these are all major reasons people vie for online fame.
However dreamy the life of an influencer looks, beneath all those filters and hashtags is hard work. Constantly churning out content, dealing with online negativity and trolls, and having to figure out the complicated online world, influencers can have it rough.
So, here's an early Christmas present to make their lives a little easier: a branded Link-in-Bio using Short.io's main page feature.
What Is the Short.io Main Page Feature?
Short.io's main page feature is, as previously mentioned, a gift. Most aspiring influencers aim for fame because of the money they can get from advertising or selling products or services. Some aspire to share their thoughts and talents with the world. Whatever their goal, Short.io's main page feature helps them achieve it.
Short.io's main page feature makes setting up your main page a breeze. After filling out a few fields, you're well on your way to creating a professional, hassle-free main page for any online store or personal website.
How to Create a Branded Link-in-Bio Using Short.io
Creating a branded link-in-bio page with Short.io's Main Page feature is easy. Just sign up for a free Short.io account to get started. Once you've made your account, follow the steps below.

On the Dashboard view, click on the Main Page tab.
Once you're on the Main Page tab, click on Choose Logo to upload a custom logo.
You can also click on Choose Background to upload your own highlight photo if you don't like a plain white image.
In the Template theme dropdown menu, choose whether you're using the Main Page feature for a Personal website or for your Online store. Other options are coming soon in 2023!
In Title, write what you want your followers to see. It can be either your name, your shop name or even a greeting to those who click on it.
You can also fill out the Description box, but this is optional.
You don't need to add the complete URL to your social media profiles as a shortcut. Instead, all you need is to write the username of your profile in the following boxes: Twitter, Facebook, Linkedin, and Instagram.
Once you've filled out this basic info, click on Save Changes to confirm the changes you made.
Now, it's time to add the links you want in your bio in the next column.
Under path, paste the URL to the content you want in your bio.
Under Title, write a short description of what the content will link to.
Once you've added the information, click on Add.
You'll find all the information you added under Link list. You'll also see an example of the mobile view of your customized link-in-bio on the right side of the screen.
Once you've added your links, you don't have to do anything. Just copy your main link domain (usually link.[domain-name].com) into your bio, and it will automatically go to your personal and customized main page.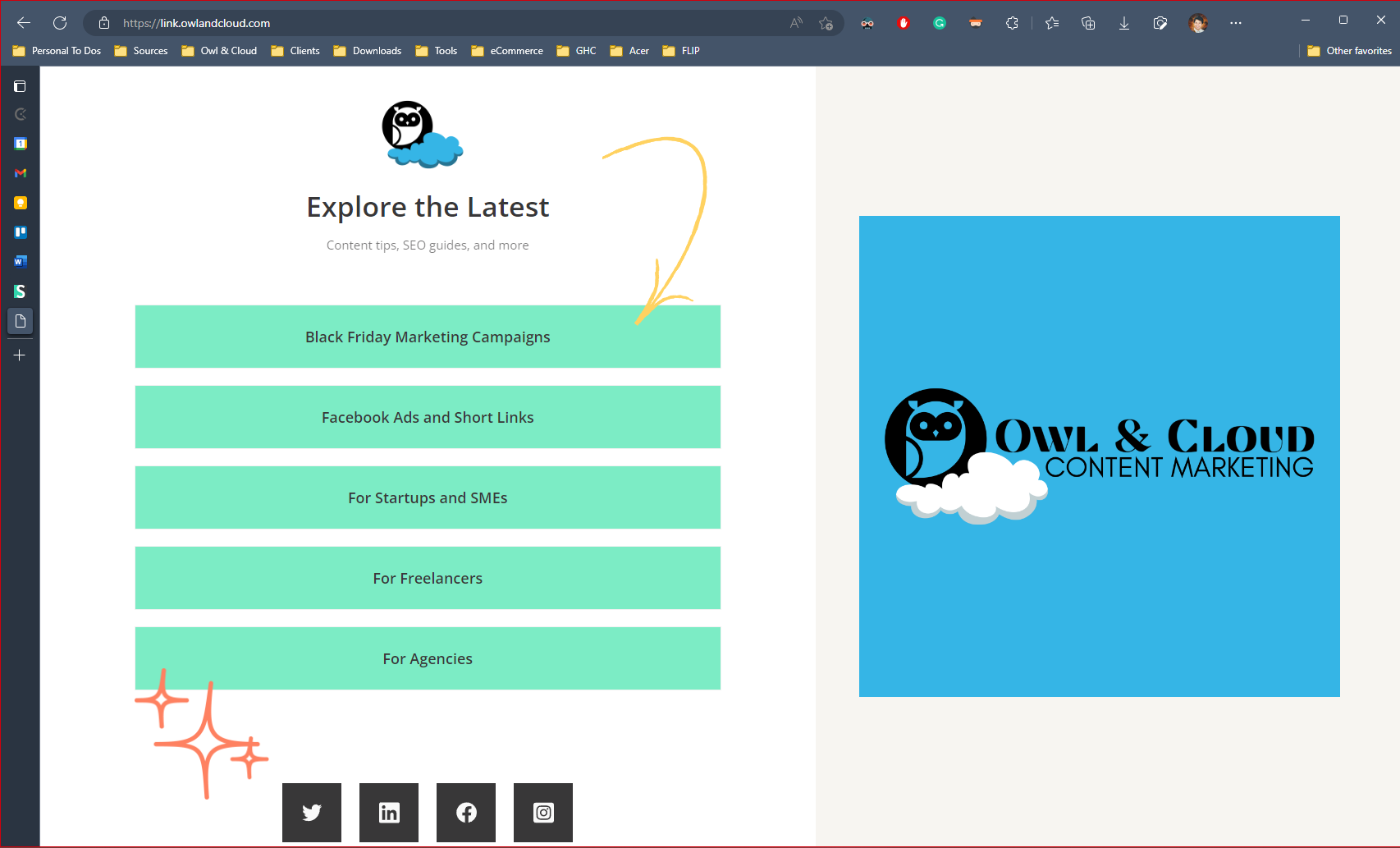 Why You Should Use a Branded Link-in-Bio for Your Instagram, Facebook, and Other Social Media Accounts
The main page feature is excellent, but it almost seems like it was made for social media. Why? Well, not only does it have features specifically for social media sites, but it was also designed to make things more convenient for aspiring influencers. Don't believe us? Here are four ways it helps an influencer.
1. A Short Link for Your Bio
The standard link has 50 to 60 characters. This fact alone makes a link inconvenient for a bio that only allows a limited number of characters. Combined with the long, random URLs that look ugly and suspicious, having a regular link in your bio could make you appear unprofessional to followers.
Thankfully, the main page feature comes with customization. When you use Short.io's main page, you can customize that lengthy URL to a short, branded link. Your link could have your website or brand's name on it. Your bio will look not only neat but also personalized and legitimate.
So you get all the features of the main page stored in a tiny, pretty little link perched elegantly in your bio. Sooner or later, your follower count is bound to rise!
2. Say Goodbye to Changing Links
Have you ever encountered an entertaining influencer before and stalked their page? Have you ever discovered a shop on Instagram, scrolled through their feed, and found an item you longed for? You click on the post to read the information about it, and the caption says, "Link in bio."
So, you head to their bio and click the link to find a totally different item in stock. This situation happens way too often. This problem occurs when influencers post new products and update the links in their bios. Fortunately, the main page feature solves this problem.
With Short.io's main page feature, you can add several links and have the feature organized and ready for interested viewers. When the main page shows all the options, you're less likely to lose a sale or customer to confusion. They're perfect for redirects too!
You would also save yourself some time and energy. When you set up the main page feature, you wouldn't have to constantly change the links in your bio or do the arduous task of updating the captions of your posts whenever you launch or advertise another product.
3. Keep Customization Easy
If you're an aspiring influencer, there's one thing you're going to have to learn: keeping up. You'd have to have some knowledge of the trends or latest news or adjust (not compromise) your content to the times. You'd have to be aware of national and international holidays to cater to all demographics.
The famous ones (usually the ones with the blue check marks and brand deals) go all out. When it's a popular holiday, they customize their website, post several themed content, and even go as far as making collaborations with other influencers. They spare no penny mainly because they know that the exposure is worth it in the long run.
However, the reality is different for smaller influencers. Smaller influencers don't have an entire team dedicated to a website or marketing. Most don't have the budget to hire someone to plan different website themes. Fortunately, they can have the main page feature Short.io offers.
One of this feature's best qualities is that customization is simple. Want to add more links? It takes a URL and a click. Want to choose a template theme? That would only take two clicks. So, if you wish to change a few designs to keep up with a particular holiday or event, it takes a few clicks here and there.
4. It's Free.
Perhaps the biggest reason an aspiring influencer should use this feature is that it won't bore a hole through their wallets. You can get all the ease and convenience along with the professionalism the main page feature can give you—all for free!
You wouldn't need to bring out your credit card. You wouldn't need to wonder if you should invest money in it or not. There's no risk of losing money. All you have to do is try it out and see all the benefits it gives you and your brand.
Short.io Offers More
The main page feature isn't the only thing Short.io offers for free. Powerful and helpful features designed to boost and enhance engagement for your online endeavors are available in Short.io for free. There are also some premium features you can invest in.
With Short.io and its arsenal of features, you give your brand a fighting chance to stand out and flourish amongst the thousands vying to do the same.