As the world increasingly embraces digital communication, Google Forms has become indispensable for surveys, questionnaires, and data collection. Its convenience and versatility have made it a staple for businesses, educators, and individuals.
However, a common issue plagues the users of Google Forms: the unsightly and unwieldy nature of the generated links. Sending a long, random URL to your boss, professor, or colleague can seem lazy and unprofessional.
Fortunately, there's a great solution—link shorteners. Here are a few reasons to start masking your Google forms with short links.
4 Reasons to Mask Google Forms Links
Now that we've established the significance of concealing those lengthy Google Forms links let's explore the compelling reasons behind this practice. Masking these links enhances aesthetics, improves user-friendliness, bolsters branding, and ensures security. Let's dive into these four vital aspects.
Aesthetics
Google Forms links often consist of lengthy, complex strings of characters, making them visually unattractive and challenging to share effectively. Consider the example "https://docs.google.com/forms/d/e/1FAIpQLSc-rand0mCh4racters/viewform" – it's neither memorable nor aesthetically pleasing.
Sharing such links can be cumbersome, potentially deterring user engagement. Fortunately, there are methods to mitigate this issue, like URL shorteners or custom domain names, allowing for more appealing and manageable links.
Simplifying Google Forms links enhances their aesthetics and improves accessibility and user experience when sharing surveys, questionnaires, or other forms with your audience.
Branding
When utilizing URL shorteners to mask Google Forms links, customization becomes a potent tool for enhancing user engagement and trust.
By incorporating your brand name, campaign title, or pertinent information into the shortened link, you not only obscure the long, convoluted Google Forms URL but also infuse a professional and cohesive look. This alignment with your brand identity is vital for maintaining consistency in your online presence.
Customized short links carry a sense of authority and credibility, reassuring users that the form they're accessing is affiliated with your brand or campaign. This trust factor can be particularly crucial when collecting sensitive data or soliciting responses.
Moreover, a branded short link is more memorable and visually appealing, making it easier to share and increasing the likelihood of users clicking through.
Using customized short links for Google Forms elevates your form's presentation, augments your brand identity, and establishes trust—all subtle yet highly effective ways to leave a lasting and positive impression on your audience.
User-friendliness
Shortened links are a powerful tool for enhancing user experience and engagement. Their brevity makes them easy to remember, sparing users with lengthy and convoluted URLs.
This simplicity extends to practicality: Short links can be swiftly typed into a browser, shared verbally in conversations, or discreetly positioned after presentations and business proposals without overwhelming your content.
When users encounter a short link, they are likelier to follow it, as it conveys a sense of efficiency and professionalism. This ease of use saves time and minimizes the risk of typos or confusion when entering a web address.
As a result, shortened links serve as gateways to valuable information, ensuring a smoother, more optimized experience for both sharers and recipients. Essentially, they act as a catalyst for engagement, facilitating effortless access to the content you wish to share while leaving a positive impression of simplicity and convenience.
Security
When using Google Forms to collect crucial data, safeguarding sensitive information is a top priority. This is where the security-enhancing capabilities of certain URL shorteners come into play, offering a paramount level of protection for your shared content.
URL shorteners that provide password protection enable you to add a layer of security to your links. This means that even if someone has the shortened URL, they won't be able to access the content without the correct password.
This feature is especially vital when sharing confidential documents, private surveys, or exclusive content through Google Forms.
Password protection ensures that only authorized individuals with the requisite credentials can access the linked information. This safeguards your data and provides peace of mind, knowing that your sensitive content remains exclusively accessible to the intended recipients.
In a world where data breaches and unauthorized access are constant concerns, password protection in your link-shortening strategy is a proactive measure to fortify the security of your shared documents and sensitive information.
Choosing the Right Shortener
When considering the importance of masking Google Forms links, the choice of URL shortener becomes paramount. It's not just about aesthetics but also about safeguarding your data and ensuring the reliability of your links.
Therefore, let's explore the two key factors to consider when making this critical decision: trustworthy and established.
Trustworthy
The allure of free URL shorteners may be tempting, but beneath the surface lies a hidden cost – the potential compromise of your data security. It's imperative to prioritize a trustworthy shortening service that upholds your privacy and ensures the safety of your links and data.
Reputable providers prioritize online safety, implementing robust security measures to safeguard your information. This commitment protects your sensitive content and provides invaluable peace of mind, allowing you to confidently share links without worrying about unauthorized access or data breaches.
Established
Selecting a well-established URL shortener is crucial for maintaining the longevity and stability of your masked Google Forms links. These trusted services have earned the confidence of both brands and users, ensuring reliability and the capacity to manage substantial link volumes.
Unlike newer or less reputable alternatives, established shorteners are far less prone to sudden shutdowns. This reliability safeguards your links and preserves the seamless user experience, ensuring your audience can access your content consistently without disruption or inconvenience.
How to Mask Your Google Forms Links With Your Custom Domain
Short.io is here to customize your Google Form links. All you need is to create a free Short.io account and then add your current Google Form link in the text box in the heading.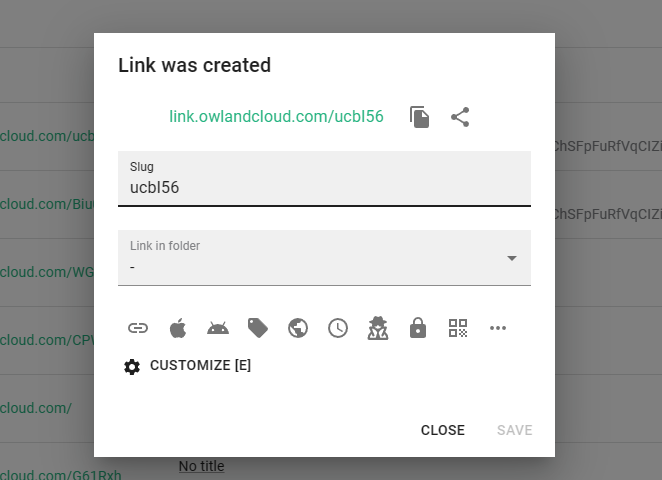 From there, you can customize the link by changing the Slug and then pressing Save. Furthermore, you can change other parameters, like the Link Title, Link Cloaking, and more, but pressing Customize.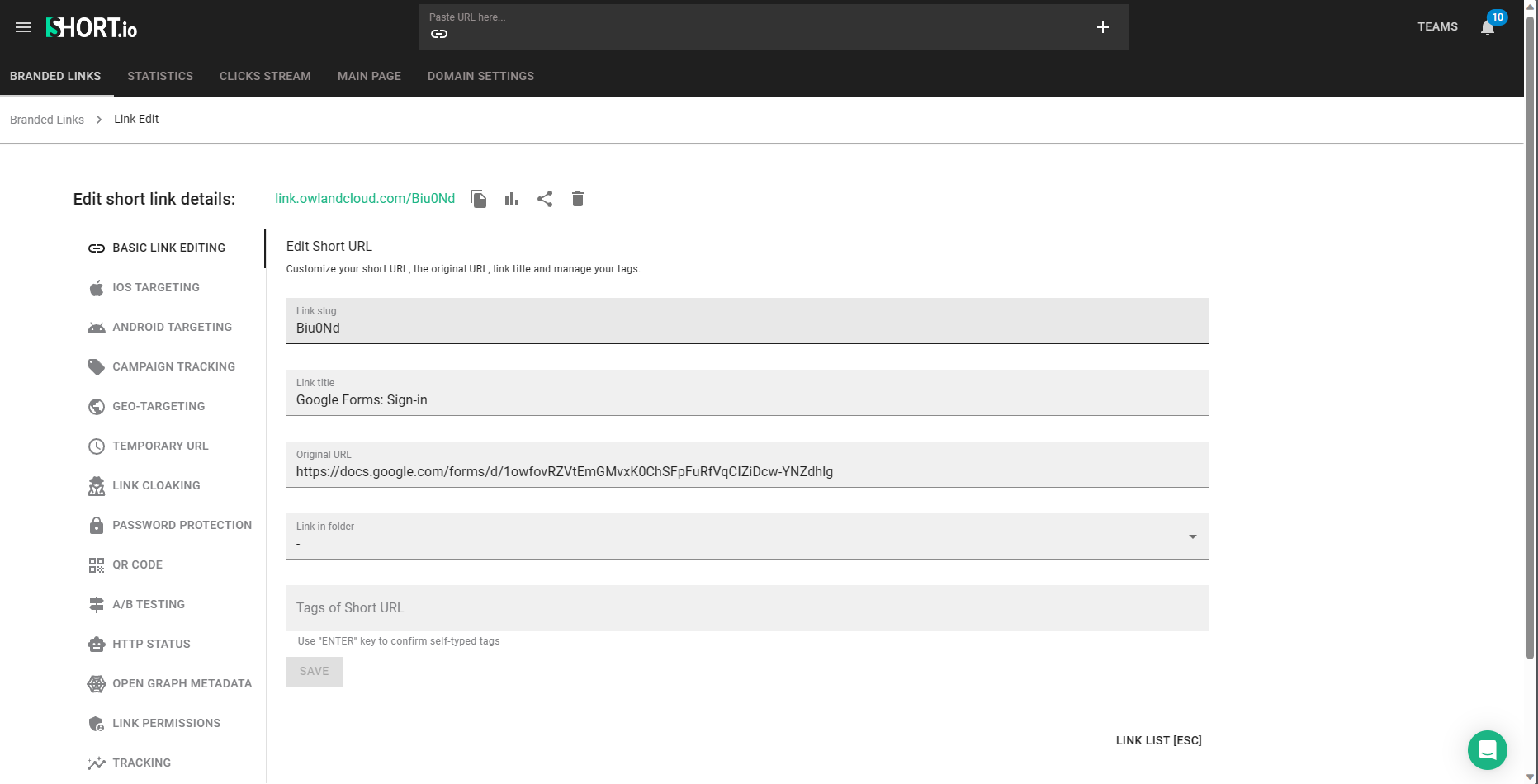 You can also check out Short.io's other advanced features, like Link Expiry, Link Cloaking, and Password Protection, here. Whatever you need for your links, Short.io has it for you.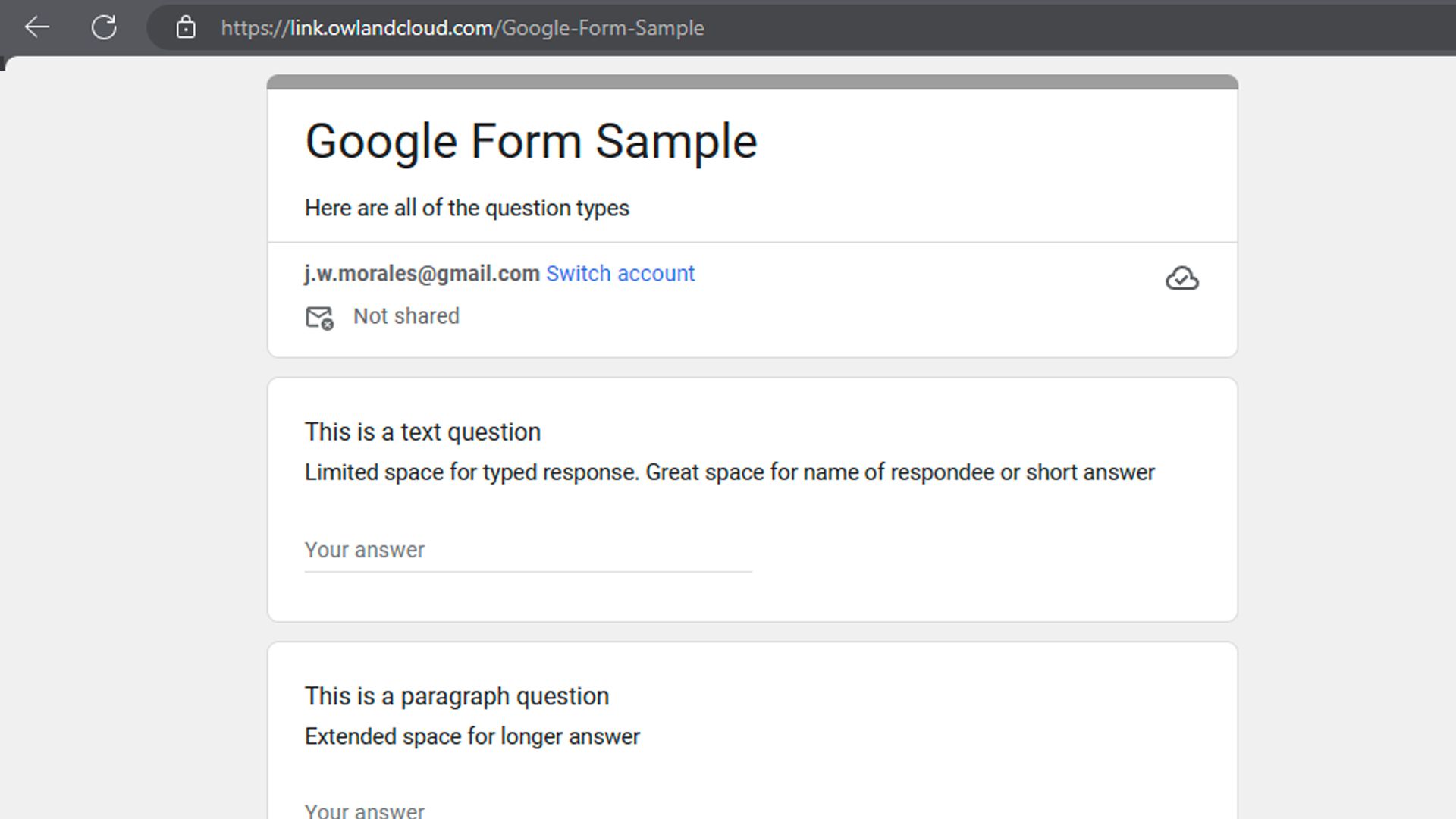 Short.io for Your Link-Related Needs
Short.io has everything for your link-shortening needs and is a trusted, secure, and established service provider. Unlike other popular alternatives, Short.io prioritizes your data security, offering peace of mind. Plus, it's cost-effective, providing more value on a smaller budget. Join the ranks of satisfied users and elevate your link-sharing game with Short.io.