Broken links are the most unexpected and unwanted pages that harm your website's SEO and user experience. For visitors, it doesn't matter what issue the website owner has. After facing a 404 page, most users will leave the site and won't go back anymore.
Some users will think that the site does not exist at all. Others will think that it would be better not to visit a website that serves such errors. Short.io provides some ways to detect and prevent 404 errors. First of all, let's discuss how to find a short broken link. There are some ways:
1. Cickstream Solution
Clickstream analysis is a sequence of recent clicks. Every click contains detailed data about a visitor and a URL, like IP address, status code, method, and user-agent.
By applying clickstream filters, it's easy to determine links with a 404 status code.

2. Domain Statistics
Domain statistics contain some statistical blocks for in-depth analysis—for example, top links, top referrers, top mediums, and of course, top broken links. In the top broken links section, you will find the top 10 broken links on your domain.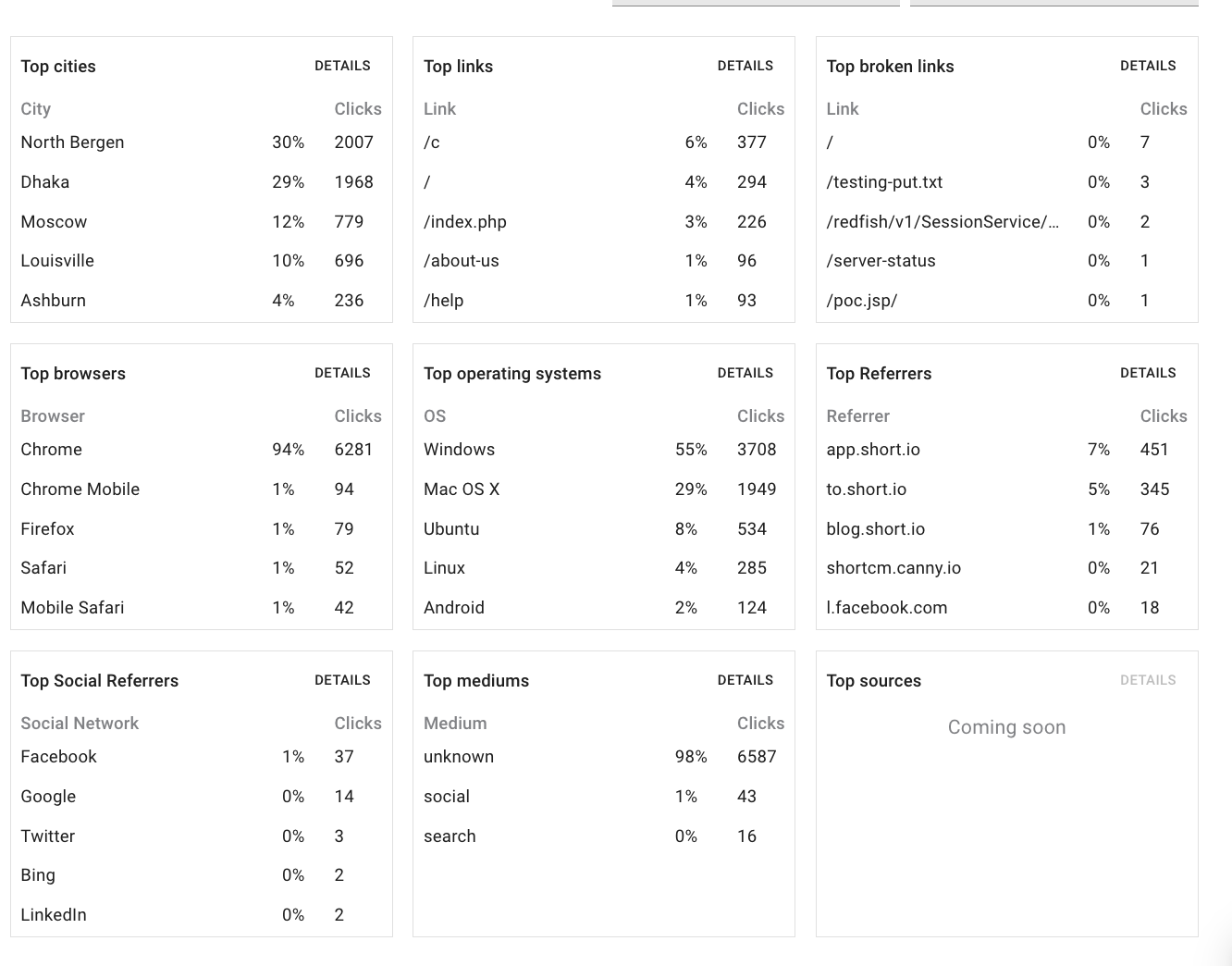 How to prevent visitors from seeing the 404 error page
Unfortunately, 404 pages are not predictable. That's why, to prevent visitors from facing a 404 page, you need to arm yourself against broken links.
1. 404 Page Redirect
Customization of 404 parameters for non-existent short links allows redirecting visitors to an appropriate page of your main website and migrating safely to a new domain.
There are some ways of adding a 404 parameter:
In the Short.io domain settings, you specify a custom link, say the landing page of your website. As a result, if a short link doesn't exist, visitors will be redirected to the pre-specified URL.
In the same manner, you can specify the link like https://long.link/$1. We will replace $1 with the slug of a non-existing link. After that, when visitors end up on the error 404 page https://short.link/path-error, they will be automatically redirected to https://link.link/path-error.

Conclusion
Considering the abovementioned steps, dealing with broken links won't take too much time and effort. With the correct settings, your visitors may not even be aware of a broken URL.
---
What did you learn?
error pages
how to fox error pages
how to fix broken links
Read also: