A startup refers to a company in the primary stages of operations. Entrepreneurs open them when they believe they can offer a service to demand. And while starting a company might've been monumental a few decades ago, the world has changed since.
Online shopping and social media development has given businesses a massive market. With such a large portion of the world having access to online shopping, startups have been opening left and right. Some have soared in success; others… not so much.
If you ever find yourself planning to open one, however, Short.io is here to help you succeed. Although our primary service is to shorten links using your own domain for free, we offer more than just that. Here's how we can help you grow.
Branding Your Links
Whether you're a startup or a small company, the most important thing you can do is to get your name out there. And when you're adding links to your marketing material, you don't want to have a long URL on it like "http://www.brand.com/promos/november-campaign".
Instead, you can shorten it to make it easy to remember and even easier to click through. However, you shouldn't use a generic link shortener like bit.ly. After all, why should you settle for a shortened link with random letters and carries some other company's name, like "bit.ly/3cfas3a"?
That's why Short.io is here. By creating a free account, you can start making customized short links for all your marketing campaigns and more. These personalized links help you in three ways: brand recognition, trust, and professionalism.
Brand recognition is achieved when you stamp your link into literally everything you can get your hands on. Because it's personalized, your lengthy links are now nice and compact with the ability to carry your brand's name.
You can attach them to every ad, email, or social media post. You can even stick them onto every business card, flyer, shirt, and more. Soon, you'll have a bunch of users reading your brand's name. And though they may not initially know what your startup does, they'd eventually recognize and perhaps trust your name once they look for a similar service.
Trust! That's another thing you'll have to work hard to earn when starting a company. Unfortunately, you could lose it to sketchy URLs. People are used to clicking on customized links. The best companies know how effective short links can be and use them. When was the last time you saw a big company present a long, sketchy URL for you to click on? Exactly.
Short links are the current standard. Not using them makes your company look suspicious. You look cohesive and put together when you use them for every link. You look professional.
With Short.io, you can turn "http://www.brand.com/promos/november-campaign" into "brand.com/fall-sale" or something easier to remember; instead of a random set of numbers and letters with another company's name.
Link Retargeting
Advertising is a big part of any marketing plan, especially if you're just introducing your business. However, placing ads—whether online or offline—can cost an arm and a leg. That's why it's important you make the most of the ad placements you've made, wherever your clients are.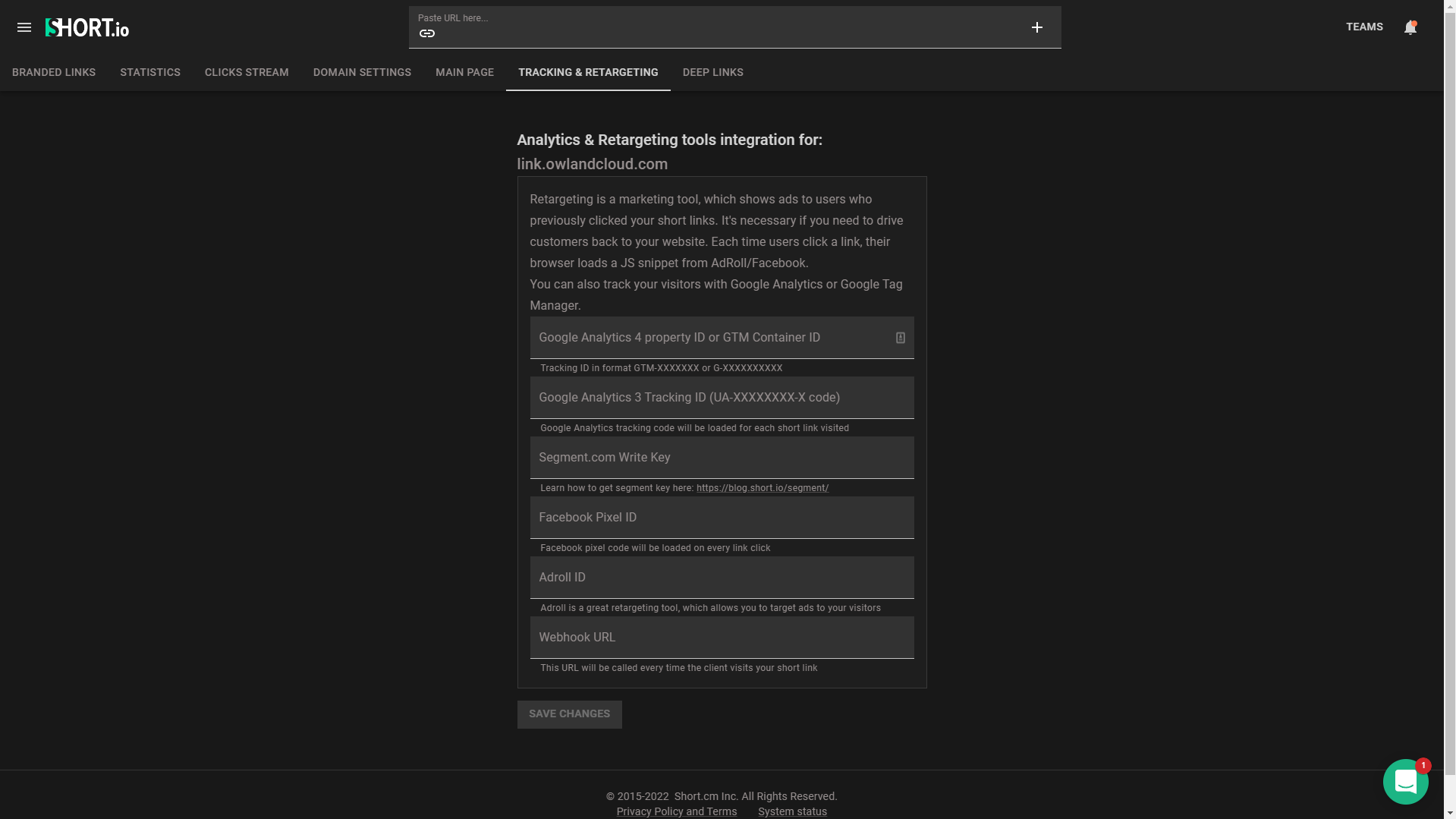 This is where link retargeting comes in. You can integrate AdRoll or Facebook Pixel with a Short.io Personal Plan. That way, you can ensure that anyone who clicks on your short links will be served your ads. With that, your brand will always be top-of-mind by your potential customers.
Plus, they're easy to set up. With just a few steps, you can set up link retargeting to ensure that your brand follows your clients, even if they're on Facebook or watching YouTube videos.
Detailed Statistics
Detailed Statistics is probably one of the most valuable features of short links. It's a feature that gives you a lot of information about your users. You get your user's locations, operating systems, and more with detailed statistics.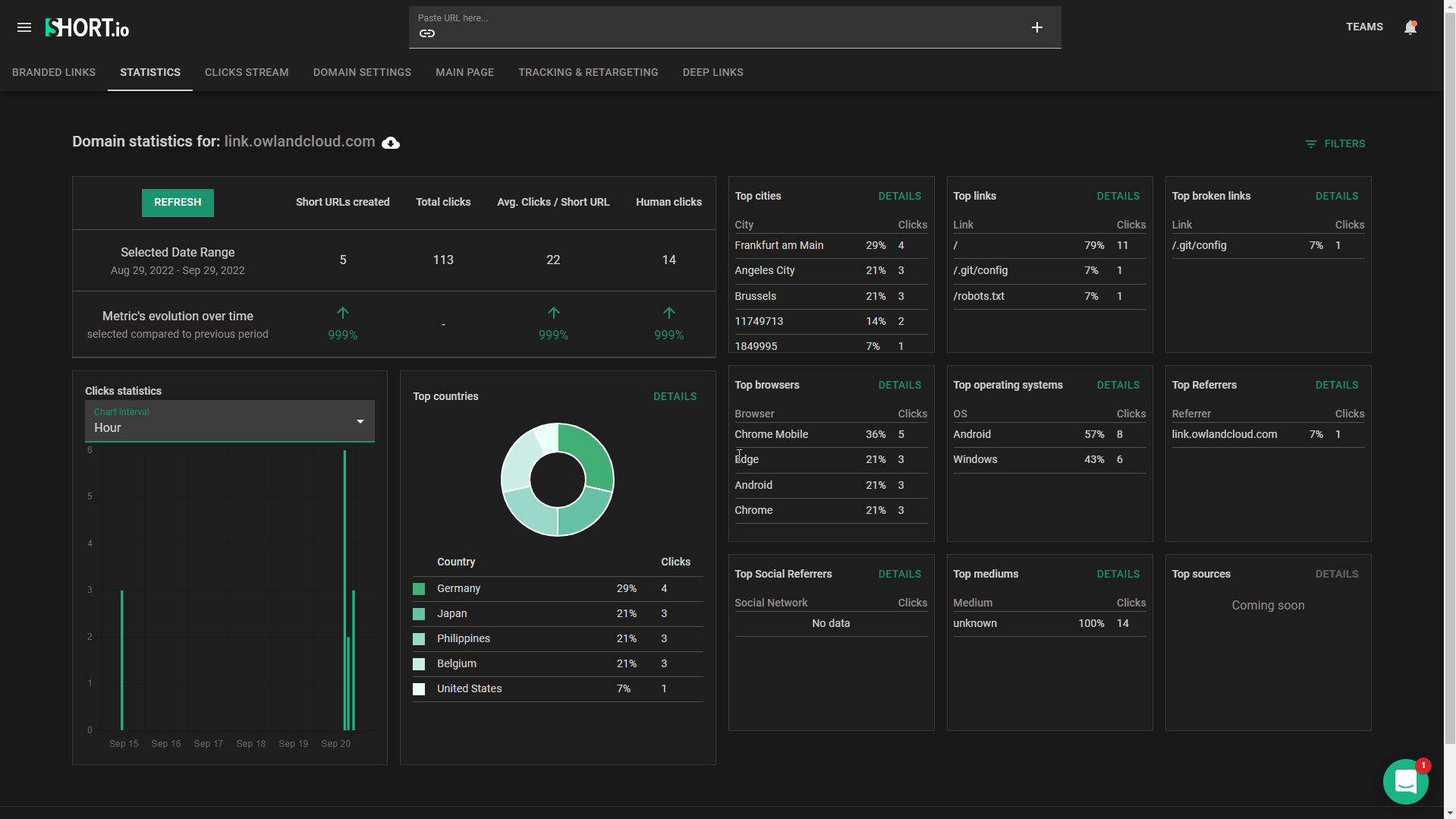 Other information like how many clicks your link got on a specific date (or overall), when your link got the most traffic, and more becomes available. Link shortening services like Short.io can gather a lot of useful data for you and presents the full range of data in an easy-to-read, organized manner.
This is perhaps the most helpful feature for a startup because it gives you the information you need to make important adjustments early on. You can tweak your marketing strategy with detailed statistics and make it as efficient as possible.
For example, when you know the specific time your site receives the most traffic, you can use this information to tell you when you should make updates to your page. This will ensure that your announcements get the most exposure.
Other information makes even more of an impact long term. Detailed statistics can make your startup more inclusive to its users. It can also make sure that things run smoother for them.
The primary location of your users will help you figure out, to some extent, what they want. You can predict trends, adjust to specific holidays, and even develop customized products or services.
Knowing which browsers they use can help ensure things run smoothly on your website. Information on the operating system will help you figure out if you should also invest in an app. All in all, relevant information in the right hands can change the game.
Work Anywhere, Anytime
When you're building your startup or SME, you don't have the luxury of having fixed working hours. Whether you're working in your office, meeting with a supplier, troubleshooting for a client, or simply taking a break in your home, you must have access to your tools anytime. That way, in case something needs to be fixed pronto, you can immediately get to it.
That's why Short.io offers all of its capabilities inside an app. So, whether you're using an Android or iOS device, you can always ensure that your links are working. You can also have your tracking data in your pocket, so if you get into an impromptu meeting with your marketing team, you can easily pull out accurate data.
Short.io Can Help Your Startup Soar
There's more good news. The features mentioned above are merely the tip of the iceberg. Short.io offers dozens more features that can all be useful for you or your team. Perhaps investing in the right tools will determine your startup's fate. Check out our features for yourself today and invest in your company's future—besides, you can get started on our services for free!