Attractive website content is only a part of the high engagement. To promote your brand, you have to share content on the social channels. Links from social network publications help to raise the promotional resource in Google ranking positions.
How to enhance Facebook links?
Shorten links and customize a slug. This way users will at once understand where they will be redirected. Using branded short links helps to increase brand trust and recognition.

Add image to your post. Images attract customers' attention to the publication. Users are more likely to click on a link with the eye-catching image, than on a row link.
Note: Facebook prefers link posts, which preview website image, title, and description. Links in the post format gather more clicks than links in the caption. Facebook News Feed algorithm boost link posts and decrease posts only with links in the caption. Moreover, recent researches showed that such type of image publishing gathers 80% more engagement.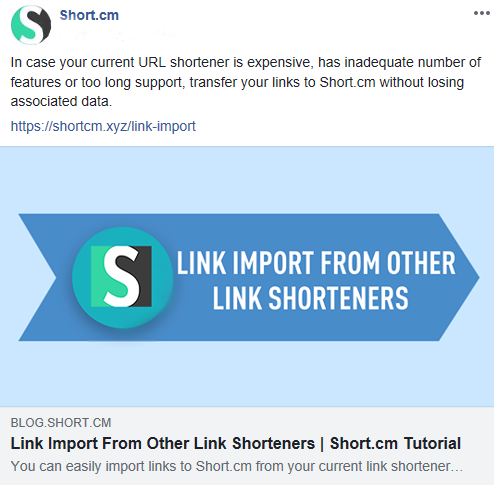 Short.cm and Facebook.
Short.cm lets you share short links from the link management window to Facebook. However, the automatic post publishing with a short link and is more convenient.
Short.cm integrates with Facebook Pages, which saves time. After a new short link is created, a post with this link and title will be published to the Facebook Page. For this, you need to use the third-party service "Zapier."
The publication through Zapier meets all Facebook demands according to successful link posting.
Test this Zap if you want to automate the work process.
The video instruction below will help you to learn how to customize Short.cm and Facebook integration via Zapier.