Social media influencers are one of the most potent weapons a brand can use to boost their image, awareness, and customer loyalty. 92% of customers trust influencer's opinions over traditional advertisements.
49% of people say they depend on influencer recommendations to inform their decision-making process. 40% of people also say that they purchased an item online after they saw a social media influencer used it.
That kind of statistic is game-changing. If you're not factoring influencers into your marketing strategy, you should be. Statistics like these offer an enticing window into the world of influencer marketing, but how do you ensure success for your business?
The answer is make sure the influencers are appropriate to your business, and that they could successfully promote your product or service. That will depend on your industry and what you're selling.
The other part of the answer is being able to track your efforts and figure out what works and what doesn't. Just like any other marketing strategy, you need to make sure you can adjust your efforts accordingly to push engagement and maximize the investment.
How do you do that? It's probably going to take more than just your Google Analytics and the minimal insight you get from whatever social platform you're using. It would help if you had a specialized tool for tracking the engagement over all of your influencer's social media presence.
With Short.cm, you can easily set up tracking for your URLs, so that everything from affiliate links to promotional offers will be fully tracked, as soon as they go live.
How ShortURL statistics and campaign tracking can be used to understand social media influencer impact
Short.cm's shortening feature provides you with statistics and insights: from campaign tracking, geo-targeting, QR code generation, branded links and more. The power of influencer marketing is augmented by the vast potential of URL customization and data tracking.
You can track the impact of any social media influencer partnerships by simply looking at the detailed statistics Short.cm provides: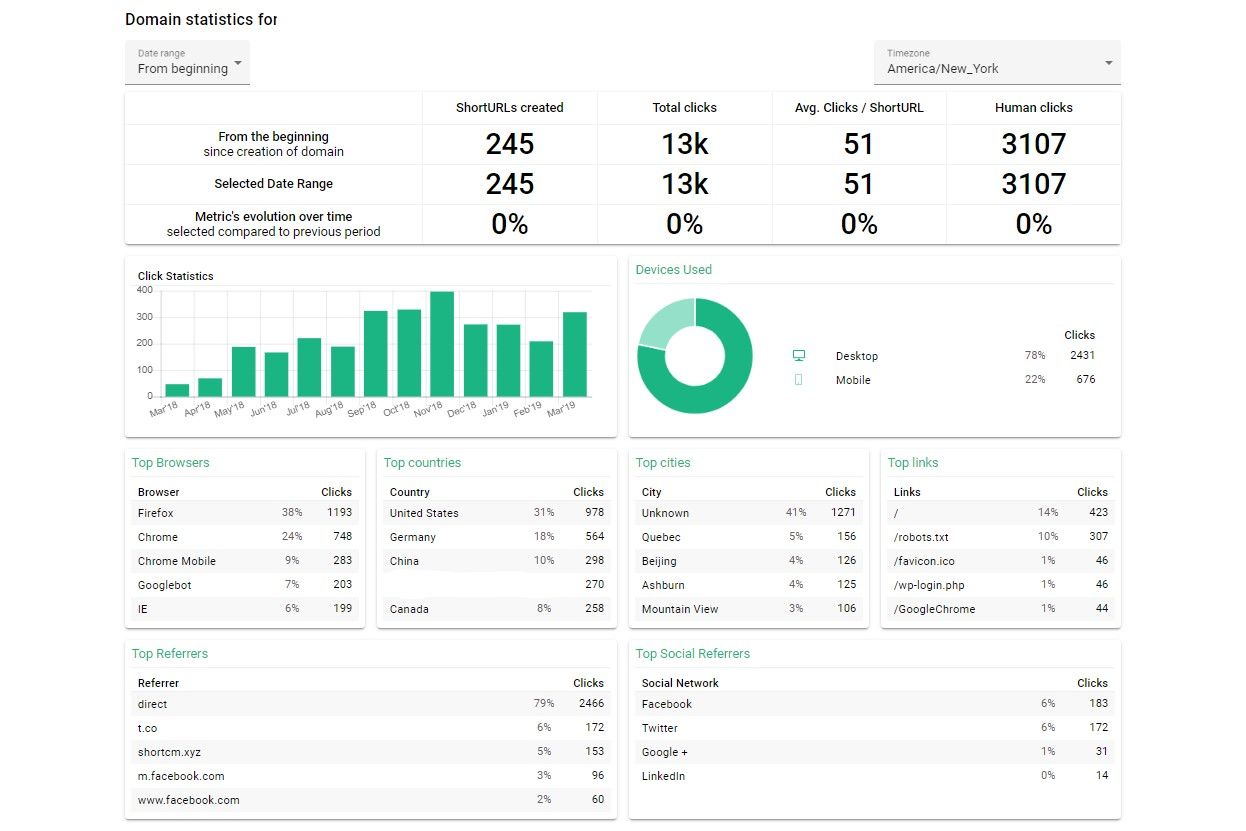 Using Process Street and Short.cm to find high-quality influencers and track KPIs
It's clear that being able to track your influencer's impact is important. What about finding the right influencer for your brand?
To do that, it helps to have a stable process. In that process, there should be clear criteria for qualification, steps from outreach to confirmation, and everything in between.
That's incredibly easy with Process Street, which is a business process management tool designed to make recurring tasks fast, fun, and faultless. There's even a pre-made template you can use to kick-start your social media influencer outreach process!
In this article, I'll be showing you how you can essentially hit two birds with one stone, and set up automation that allows you to:
a) Set up a process for social media influencer outreach in Process Street
b) Automates the creation of ShortURL links with full tracking in Short.cm
Let's get started!
Getting started with integration
First of all, we'll be setting up the integration with the help of a tool called Zapier.
Zapier is the glue that allows all of your different apps to communicate (or integrate).
It does this with "Zaps," which is Zapier's name for an integration.
Integrations use API keys to talk to one another. All you need to know is where to find the API key for the software you want to integrate. For both Process Street and Short.cm, that's very simple.
Breaking down the different parts of a Zap
Zaps are made up of a couple of important parts: triggers and actions.
Triggers are the events that cause Zapier to think "Oh! I need to do something now", and actions are whatever is done next.
In this case, we want to set a new lead in Short.cm as the trigger, and running a specific checklist in Process Street as the action.
Setting up Process Street as a trigger in Zapier**
Go to Zapier and make sure you're signed in. Then, click the orange "Make a Zap!" button in the top right.

Search for "Process Street" in the search box, and select "New Task Checked" as the trigger, like this: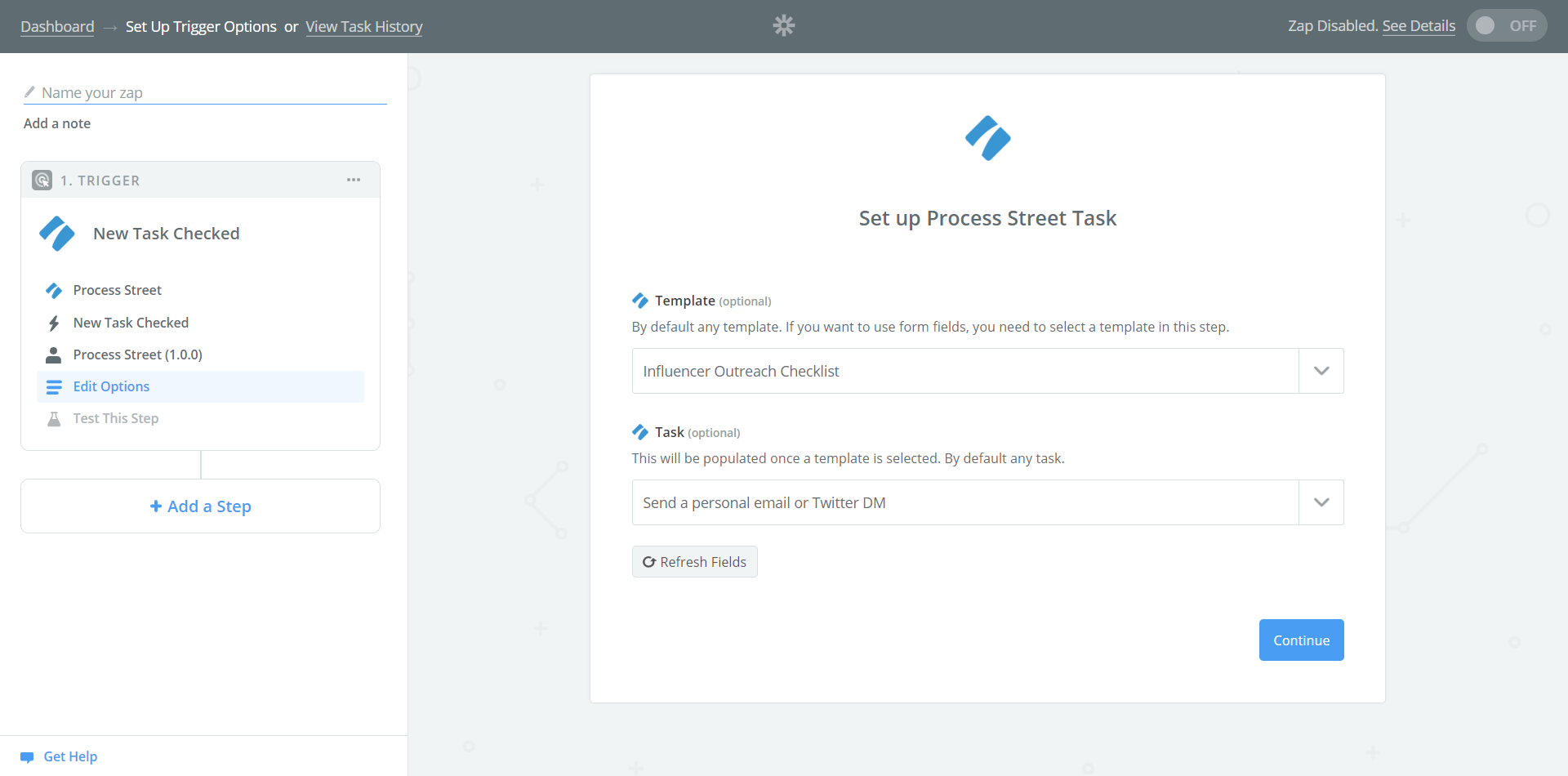 You'll be prompted to select your organization inside of Process Street.
If this is your first time using Zapier with Process Street, you'll need to input your Process Street API key, which can be found in the "Settings & API" tab of the organization you wish to add.

Click the "New API Key" button and copy the code into your clipboard.

Jump back into Zapier and click "Connect An Account", then paste the API key you just grabbed.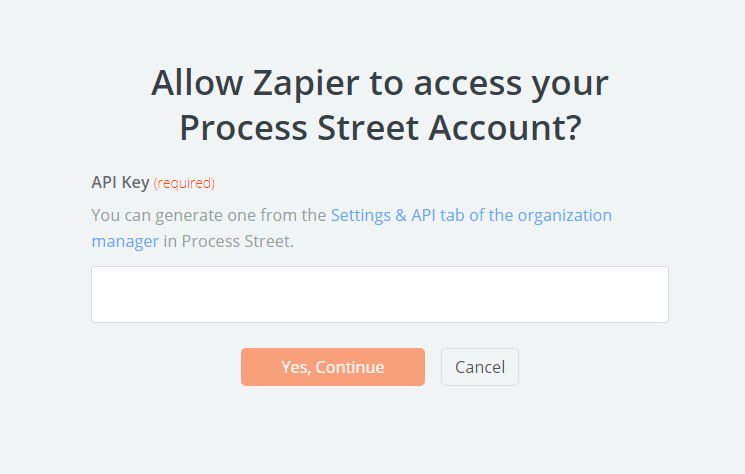 Now you'll need to set up a Process Street template so that we can test out this Zap is working.
You can quickly make your own by creating a new template, or you can grab a pre-made one, like this social media influencer outreach checklist:
When you've chosen the checklist you want to use, input the necessary fields into the setup page and click the "Continue" button at the very bottom of the page.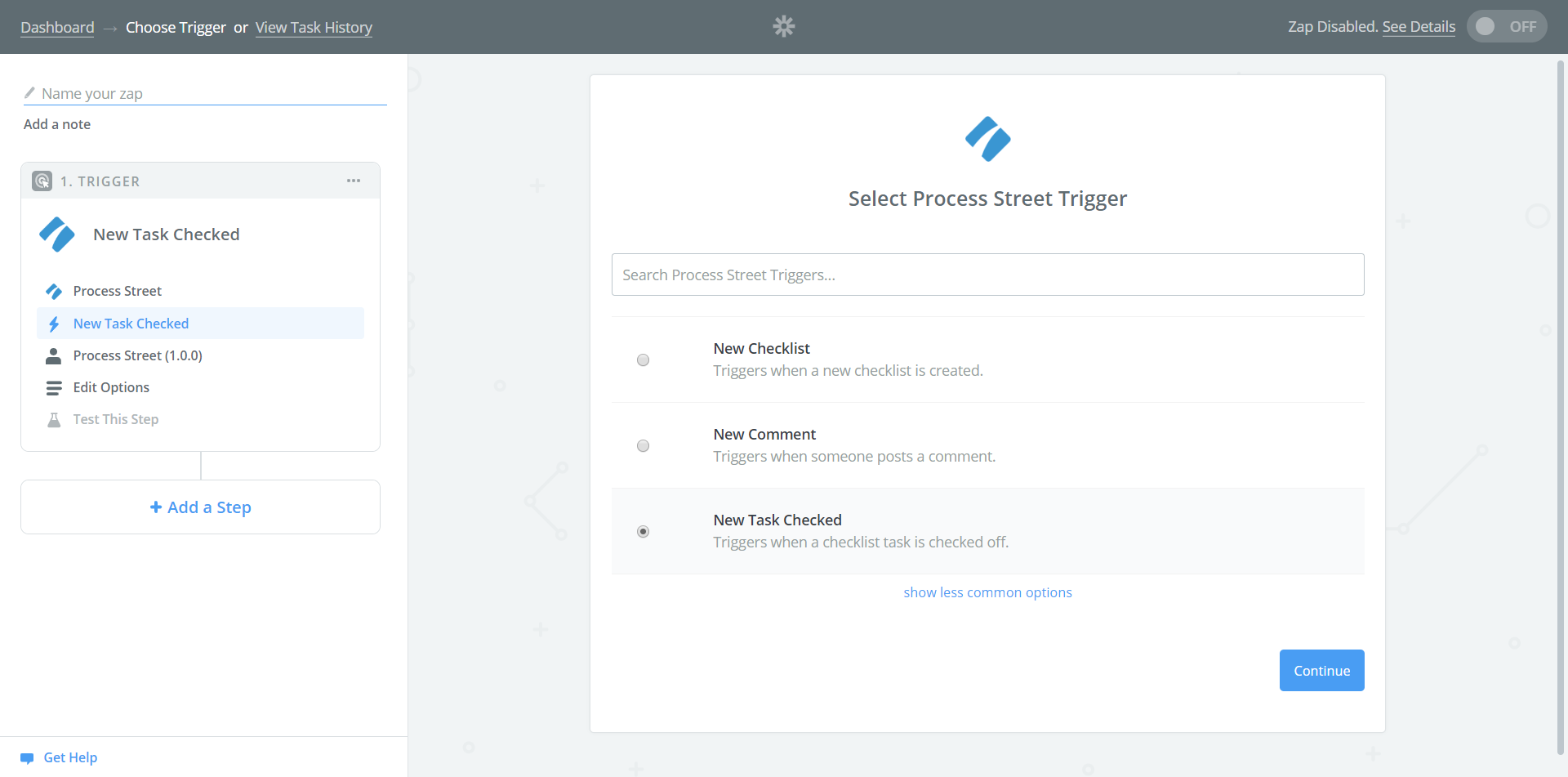 That's it for the action: on to the trigger!
Setting up Short.cm as an action in Zapier
Click "Add a Step" in the left column of Zapier, then search for "Short.cm."

Select "Create a Short Link" as the trigger: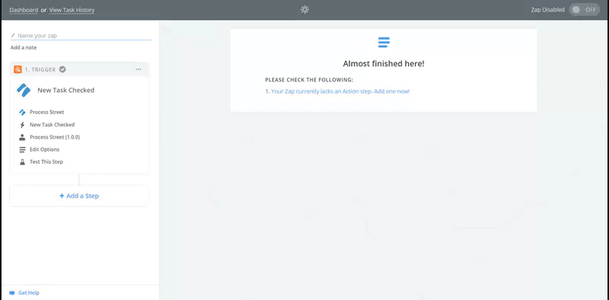 Connect your Short.cm account, with the API key you'll find listed as "Secret key" on the "Integrations & API" page.

Now edit the settings of the action. Select the domain name from your Short.cm account that you want to use, and the corresponding long URL that you want to shorten: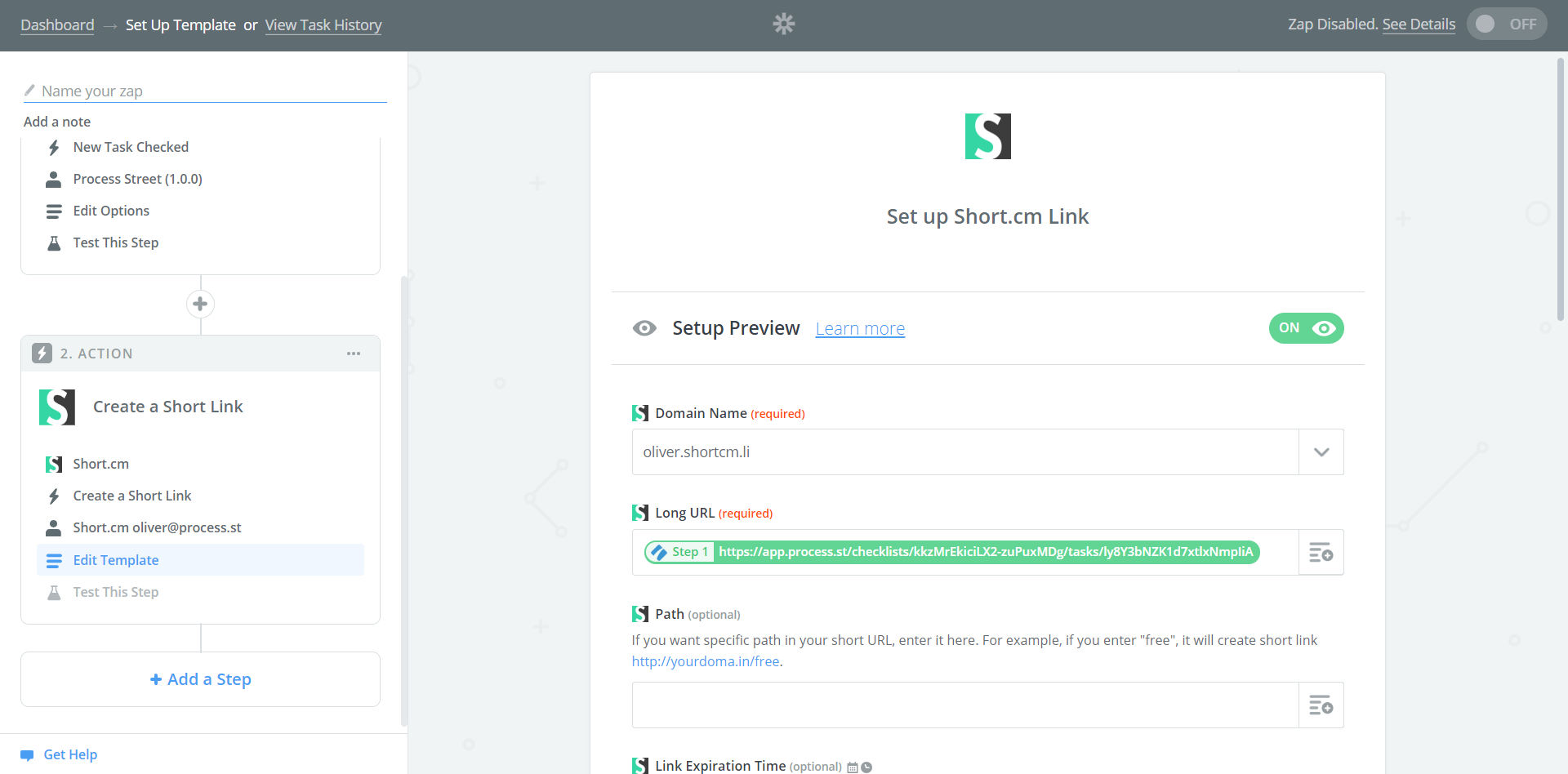 Fill out the remaining settings as necessary, and click "Continue."
Now it's time to test the Zap to make sure everything works.
Testing the Zap
If you've done everything correctly so far, that's actually as simple as clicking "Send a Test to Short.cm."
A successful test will look like this: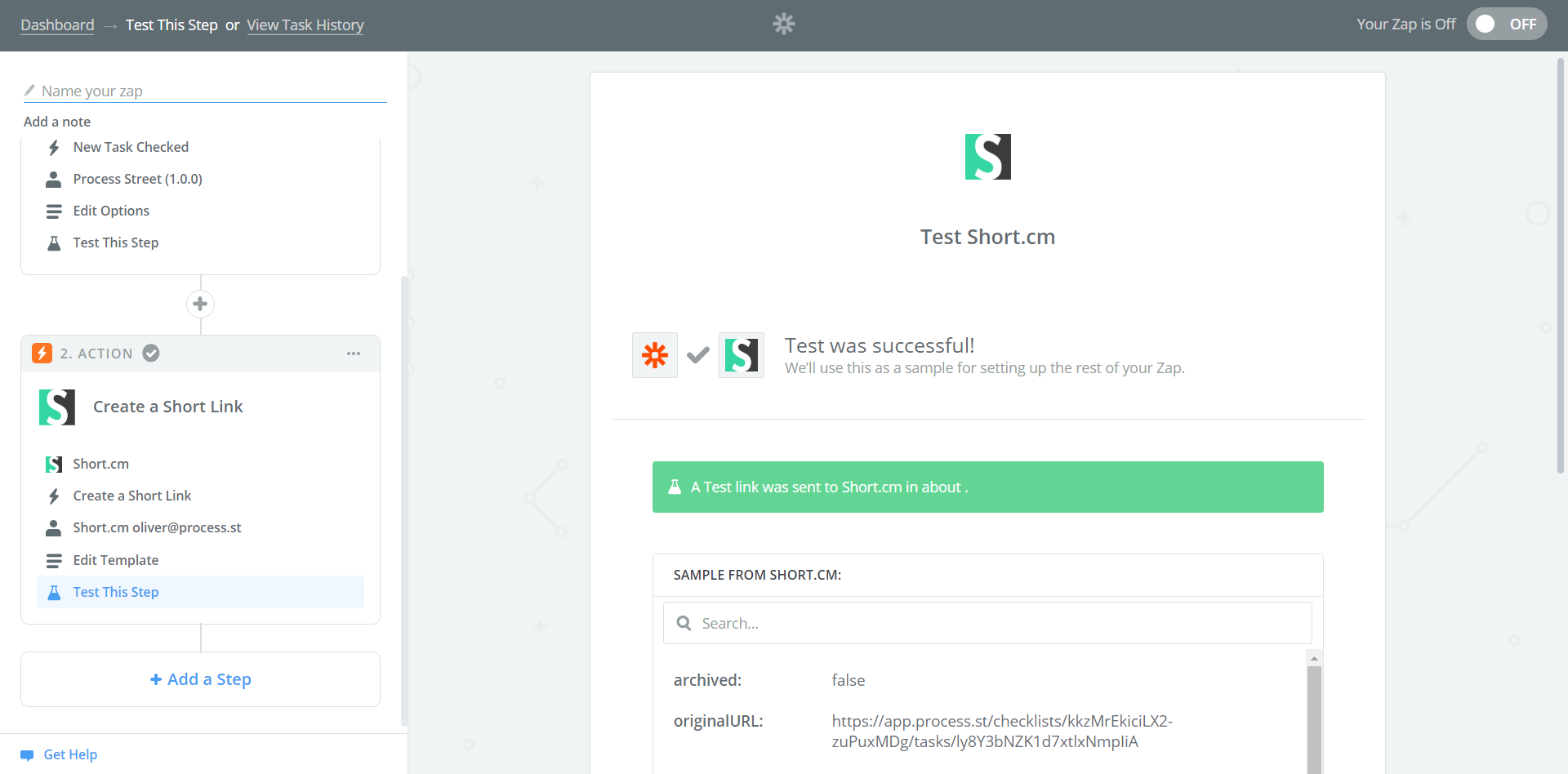 And that's it! Your Zap is complete.
Don't forget to name the Zap and turn it from "OFF" to "ON."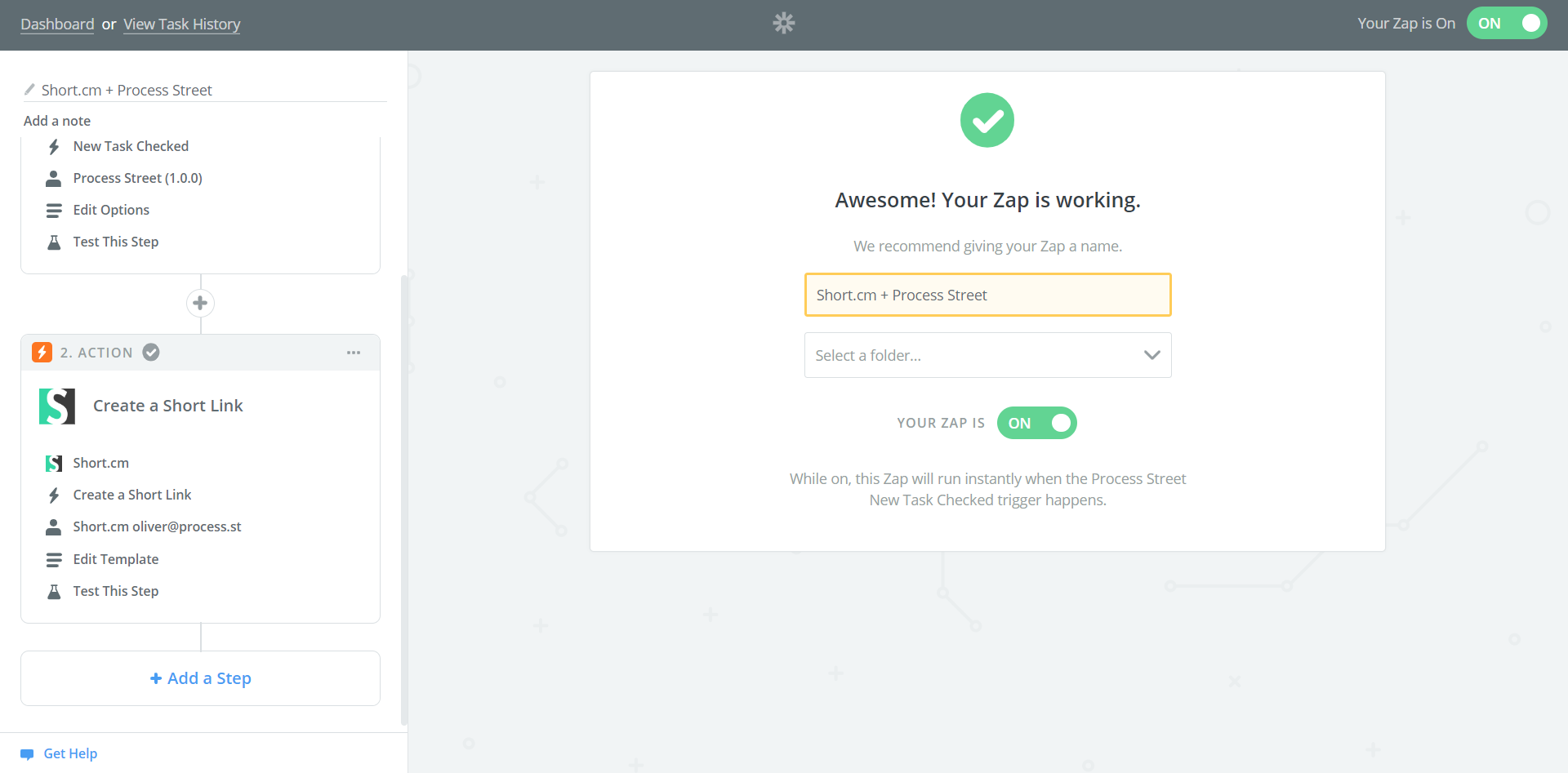 Of course, feel free to edit the social media influencer checklist template to suit your own needs, but hopefully, this is a useful starting point.
Now that you're all set up, you'll be able to rest assured that you're utilizing a process to eliminate menial tasks, reduce human error, improve efficiency, and comprehensive URL tracking. Keep on top of the impact these influencers are having on your business.
---
What did you learn?
How track influencers' KPIs with Short.cm and Process Street.
The importance of influence marketing.
Understanding the influence marketing.
Read also: