Short.io provides a powerful marketing tool—Retargeting—to let you strengthen brand promotion. You can set up retargeting via Facebook and AdRoll on Short.io. Today on the Short.io blog, however, we'll walk you through some hacks on how to get the most out of retargeting.
5 Retargeting Hacks
1. Determine the frequency of ads and duration of a campaign. Don't attack your customers with ads as you will annoy them. Strike the right balance between persuading and ignoring. Around 15-20 impressions per month for each user would be enough.
The high frequency of impressions could be destructive for several reasons. The more times a user sees the same ad, the less likely he or she clicks it. Moreover, intensive advertising leads to bad feedback from users.
Despite being annoying, high frequency leads to a higher cost of ads. So...firstly, users won't click on the frequently repeated ads, and secondly, you'll pay more. That's why you need to set up an average number of impressions.
2. Conduct experiments for the destination URLs to choose the best one. The A/B testing method evaluates the performance of two variants of a destination page, as well as determines a more successful one. Split testing helps to assess the effectiveness of page changes—for example, after placing a CTA button in another position.
Source: 360logica
Besides testing the final URLs, split the banners as well. Add another image or a call-to-action phrase to compare the two types of banners.
The purpose of using this method is to identify and implement the components that increase the ad's effectiveness.
3. Make your ads branded. Define a connection between an advertisement and your company so that users could associate them. Highlight the logo, add a branded link, and add units from your site to capture one's attention.
4. Segment the audience. Remember to stop retargeting to already converted users.
5. Make a displayed link engaging. A link displayed on an ad is the finish line of a potential buyer's journey. To not spoil an ad, make the link attractive. For this, use a shortening service. Remember to avoid generic shorteners to prevent the advertisement from being banned due to spam.
Compare the two Facebook ad examples. Which one do you think will reach higher CTR?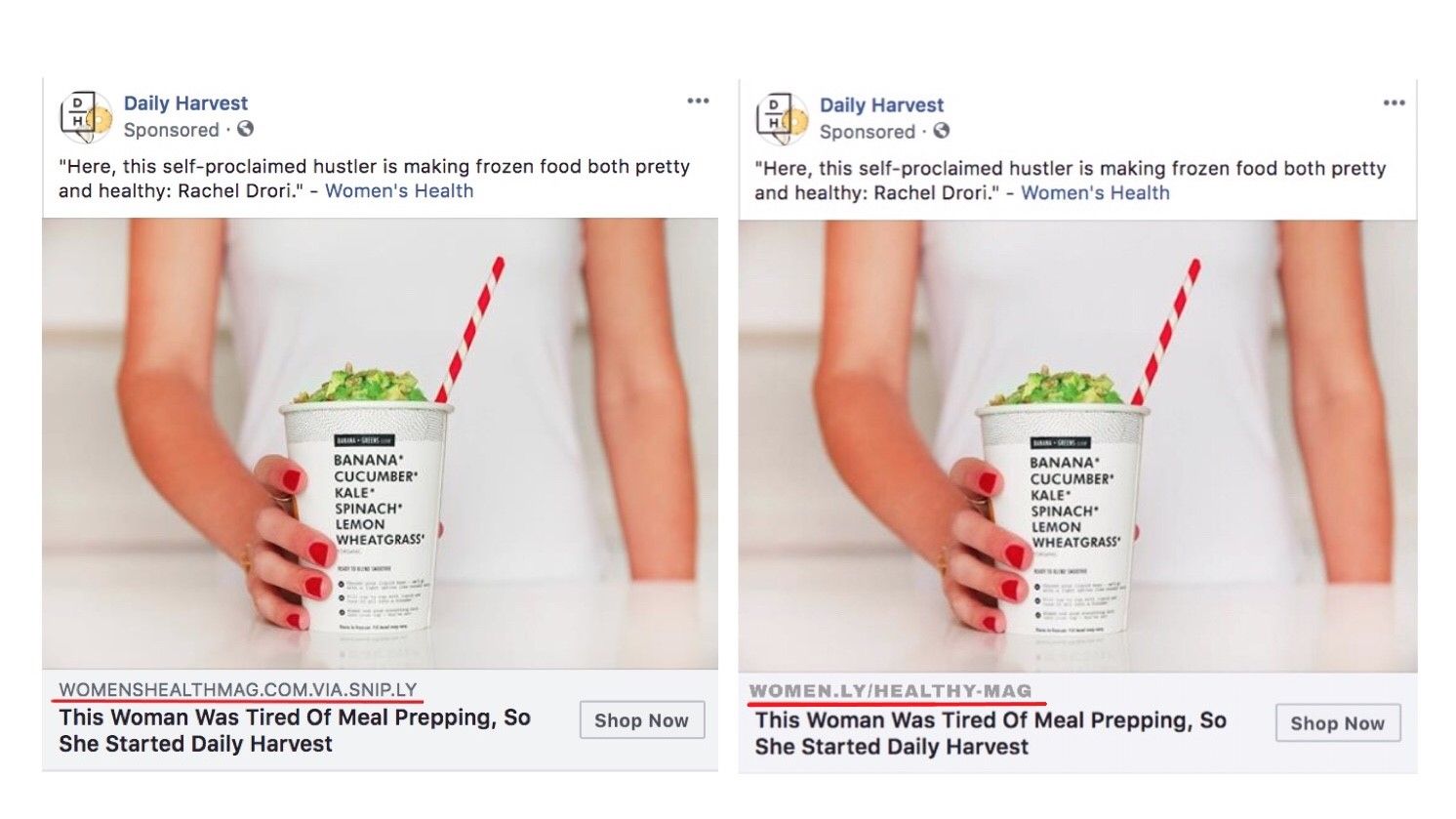 Here are some tips for the shortening:
Use a branded domain to show users that the domain belongs to your company.
Customize a link: Make up a URL slug from a search query.
Wrapping Up
Retargeting is just one of the marketing tools, not a kind of magic that can solve all your marketing issues and increase the conversion. A successful sales funnel is impossible without creating a helpful and high-quality service.
---
What did you learn?
facebook pixel reargeting;
how to retarget short links;
how to set up retargeting;
Read also: