Companies in the early stage of development need a promotion to catch the wave and stay afloat. The initial condition of success is to select the correct strategy. URL-shortening is a technique covered by many businesses, as its core task is to promote a brand for increasing sales.
So, what about applying short links to startups? The URL shortener inevitably transforms the way the startup sector is operating.
Best Practices of Using Short Links for Startups
Shorten links using a branded domain to spruce up long URLs. When using generic short links, you intensively promote other brands instead of your.
It is essential for internet users to click on trustworthy links. Customers need to know what is hidden behind the link at first sight. This psychological factor plays a crucial role. On seeing something cute, both you and I will desire to touch it; this also happens with customers. When they see a clear link, trust, assurance, and a nice URL make them click on it. Therefore, the CTR of short, branded links is 40% higher than with generic domains.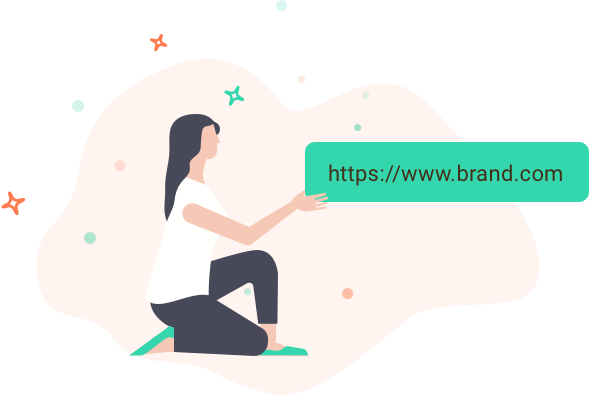 Share products on social media
After the link is shortened, share it on social media to make your customers aware of the updates. Users see news on the timeline and click a link to find out more.
Insight: By using Short.cm, share short links straight from the dashboard. Choose the offered social networks and click the share button.
Insight: Short.cm integrates with Buffer service for automatic sharing. When a link is shortened, it will be sent to the specified social channels automatically. The advantage is that the post will contain a link title, description, and a web page preview that is essential for grabbing customers' attention.
By choosing Buffer, you can not only send links to the eight social networks but also schedule posts.
Retargeting technology is used to show ads to users who have already made some actions on the website but have not completed them.
With the help of retargeting advertising, you will be able to catch potential customers. Implement the retargeting for the short links. Short.cm shows ads to visitors who have clicked your short-branded link. As a result, users who were earlier interested in your brand are most likely to complete the action.
Short.cm displays detailed statistics to let you track the success of short URLs. The statistics are accurate enough to fit the basic needs, e.g., from where the users click a short link, which browser/device the users use, and the country of a click.
You can track short links using Short.cm statistics to build the basic concepts of your customers' behavior.
Short.cm integrates with analytical services to let you dive deeper into the statistics. With Google Analytics, you can measure the effectiveness of keywords, special offers, and UTM-tags. The advantage of using Google Tag Manager is that when you integrate your GTM account with other services, such as Google Analytics, Google Ads, LinkedIn, they receive data from Google Tag Manager.
The instruments are easy to set on Short.cm. It takes you 2 minutes to implement tracking ID, which brings advanced impact on statistical data in the future.
---
The article is about:
How startups can use Short.cm.
Advantages for startups.
Young companies apply Short.cm for promotion.
Read also: