While GoDaddy is already a powerful and user-friendly domain registrar, web hosting service, and website-building platform, other tools, like Short.io, can make it even more capable.
However, setting up these tools can sometimes be complicated and confusing. After all, if you're not a programmer, navigating the maze of steps and commands you need to get a tool up and running might take hours of your time.
Here's why you should use Short.io to upgrade your GoDaddy websites and how you can do it with Short.io's Auto-Configuration feature.
What Short.io Delivers to Your GoDaddy Domain
Short.io is a link-shortening tool that gives you more than short links. It lets you track your link clicks so you know how your marketing campaigns perform, create expiring links to stoke FOMO among your customers, and even make personalized link-in-bio pages for your socials.
But aside from that, here's why it's important to use Short.io for your websites.
Upgrade Your Webpage Addresses
While you might be focusing on the content and design of your web pages, you should also consider their URLs. If you already have several pages, you don't want to have an unnecessarily long web address on them. Think about it. Would you prefer a long URL, a web address with your domain, and a string of gibberish after it, or a shorter link with your brand name and descriptive words?
With Short.io, you can customize all your addresses to contain your domain name, followed by words and characters of your choosing. Say you own example.com, where you sell your exclusive clothing line, and you have an upcoming sale of last-season offerings.
So, to market this sale, you head to the discounted section of your website, copy its URL, and post it on your social media pages. However, when you do so, your link will probably look like this: https://www.example.com/eshop/winter-2022/discounts/sale-2023. Or worse, it could look like this: https://www.example.com/wef67AAS3sff.
Instead of these examples, you can use Short.io to customize it to https://link.example.com/last-season-sale. This way, your clients know exactly what they're clicking on. Besides, an easy-to-read URL is SEO-friendly, allowing you to rank higher in Google search results than your competitors.
Create a Link-in-Bio Page in Minutes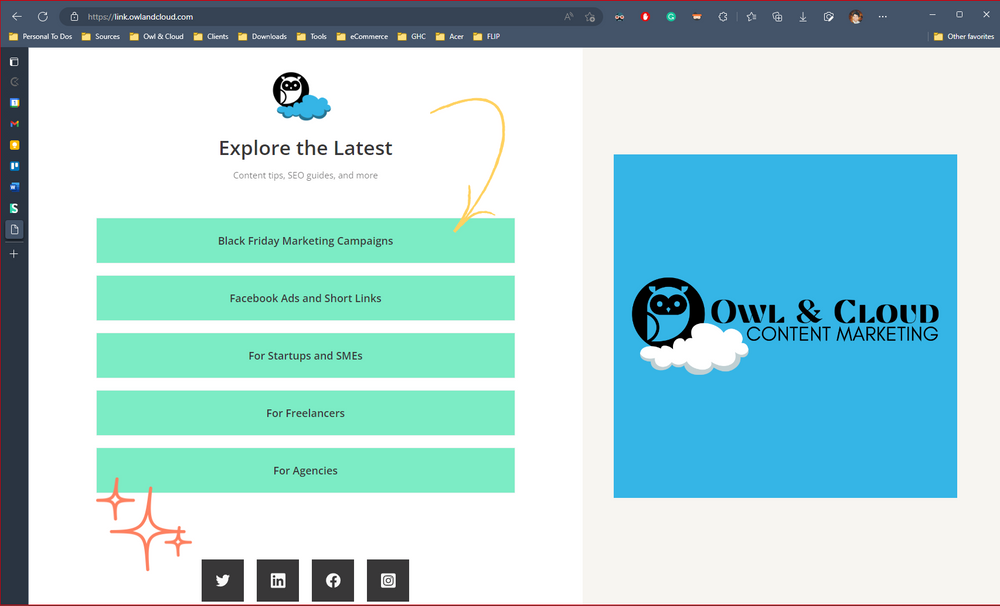 You need more than just a website if you want to have an online presence. After all, you want to be where your customers are—in social media. That's why it's crucial for you to have profiles on Facebook, Instagram, Twitter, and more.
However, these platforms hate it if you bring your followers outside of their sphere of influence. When you add an external link to your post, the platform may make it less viewable and reach fewer people.
This is where the Link-in-Bio page comes in. By creating a page that links to all your online content, you can place it under your profile instead of your posts. This means your posts will get disseminated as widely as possible, while simultaneously, you drive traffic to your website.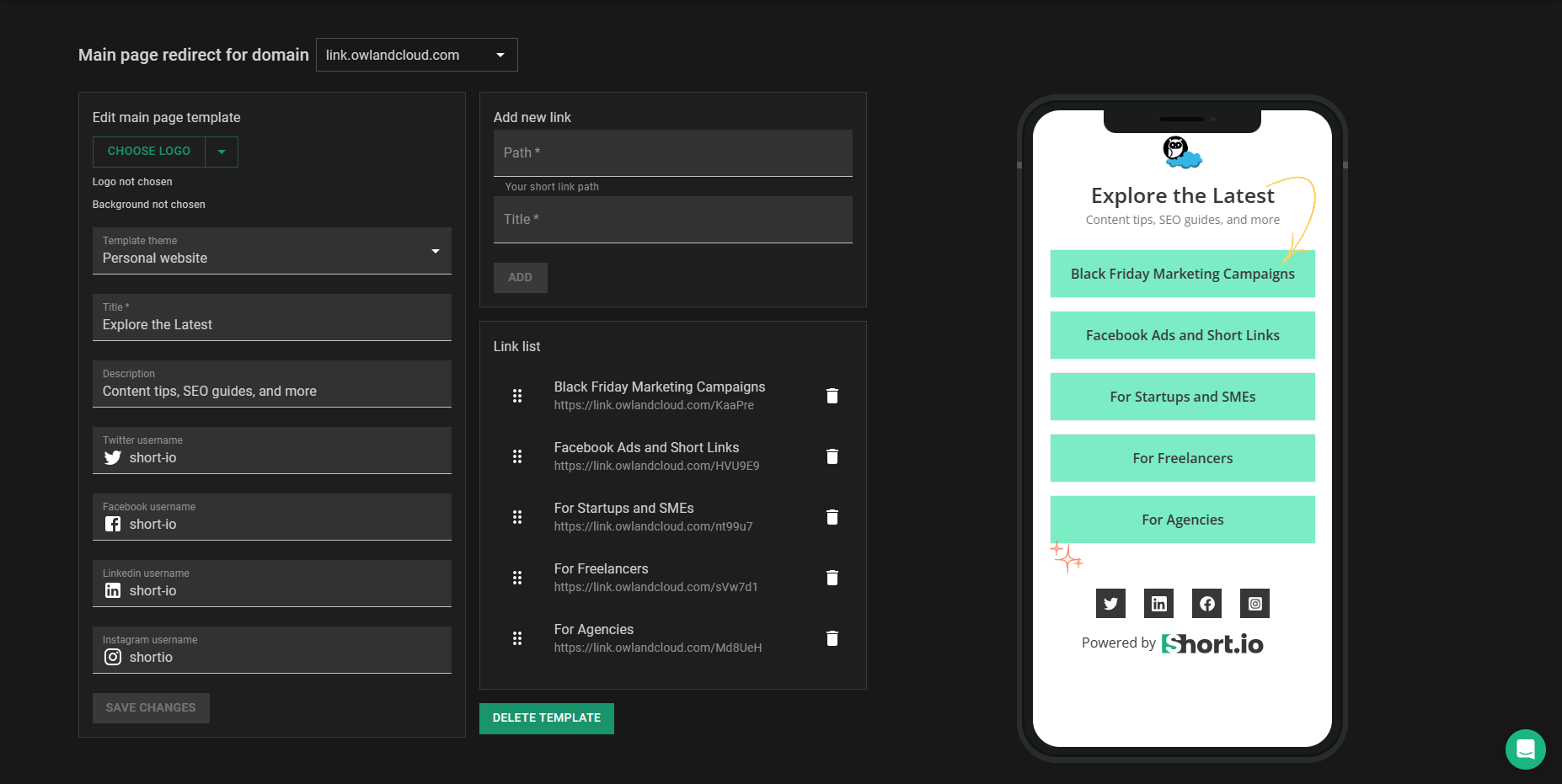 And instead of signing up for a separate service, why not use Short.io's Main Page feature instead? The Main Page feature lets you create a custom link-in-bio page, allowing you to send your customers where they need to be.
Furthermore, it's easy to use, so you don't need to create additional integrations and a separate setup. Just click on the MAIN PAGE tab in your Short.io dashboard, and you can start making one for your business.
So, if you want to create a branded link-in-bio page for social media, Short.io has got you covered. In a few minutes, you'll have a fully-functional link-in-bio for free!
Use Auto-Configuration to Set Up Domains and Subdomains With Ease
Purchasing domains from a registrar requires activation and configuration. If you're not well-versed in it, you might have to research and spend extra time to figure things out. And even if you've already done it once and are already familiar with the process, it can get irritating to do it all over again for every new domain or subdomain you acquire.
Fortunately, Short.io auto-configures GoDaddy domains, meaning no additional steps are required. This convenience helps you save time, as it sets up your GoDaddy domain quickly and automatically. It could even avoid minor errors, thus avoiding head-scratching moments where you seem to have done everything right, yet nothing works.
Whether you're building your first webpage or expanding your online presence with more domains and subdomains, Short.io's auto-configuration feature will help you get its services up and running on your new site in a jiffy.
How to Connect Your GoDaddy Account to Short.io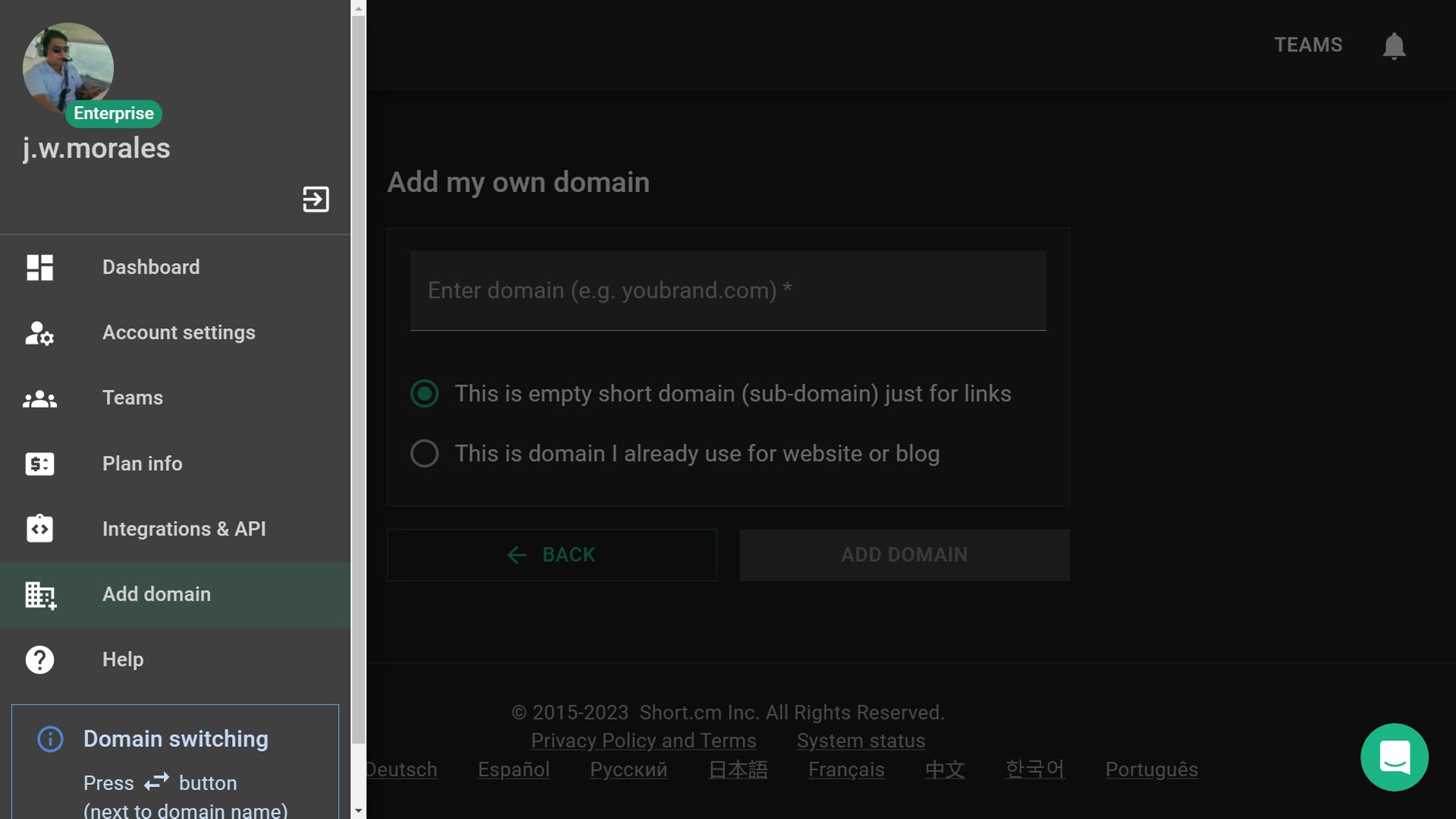 To enjoy the power of Short.io, you need to connect GoDaddy and Short.io together. But don't worry, you don't need to follow any complicated steps or create convoluted configurations.
Here's how you to integrate GoDaddy into Short.io:
Sign into your GoDaddy account and purchase an available domain name.
From there, log in to your Short.io account.
Click Add Domain on the main menu.
Choose the ADD MY OWN DOMAIN OPTION.
Paste your GoDaddy domain in the Enter domain (e.g. youbrand.com)* text box.
Select the This is empty short domain (sub-domain) just for links radio button below your text entry.
Click on ADD DOMAIN.
Once you've added your new GoDaddy domain, click on the BRANDED LINKS tab.
Below the BRANDED LINKS, you should see the You need to configure your domain to be able to use your links. If this domain is already configured - please wait. warning tab.
In the warning tab, click on CONFIGURE.
You will then go to the GoDaddy auto-configuration page.
Once done, you're free to start creating short links using your GoDaddy domain.

Since Short.io auto-configures your GoDaddy domain and subdomains, it only takes a few steps to set up the two services. With this, all your GoDaddy addresses no longer need activation. Plus, with Short.io, you get several more features that go beyond just making URLs short.
Short.io Makes Your Life Easier
Short.io is a URL shortener that does a great job of upgrading your domain names and simplifying their activation process, but that's not all it can do.
With Short.io, you get more advertising options, gather much relevant information, and more. Short.io can grow your brand, so visit us today and create your free account to find out how.