Every business, whether it's small, medium, or enterprise, needs to implement branded links to the promotional strategy. So many people, so many minds. On the Short.cm blog, we'll present some benefits of branded links so that you can appreciate their importance.
Valid short branded links should match 2 main rules:
1) A link has a branded domain.
A short link with a generic domain hides the brand name and content you share.
While using generic short links, you intensively promote another brand instead of your own. Unless you use a branded domain to tell others about the content, you're missing out on a massive branding opportunity.
The name of the domain should clearly describe your brand. If you lead a travel organization, associate a domain name with your company name or its main peculiarity. For example, in choosing a domain for travel agencies, use trip.com or travel.xyz.
Generic domains are compromised by spammers. Some URL shorteners provide customers with the generic domain to test a service. As the spammers can also use the generic domain, it's usually applied for spamming.
Branded domains are credible as users can see the brand name, which promotes a link. A personal domain belongs only to your company and cannot be compromised. Create short links using a custom domain name. That way, only you can create links with that domain, and if you are not a spammer, users will trust you.
2) A link has a Customized slug.
A URL slug is a part of the link that indicates the link direction. The perfect URL slug should give an idea of the content at first sight. This rule not only helps visitors to understand what's hidden in the link but also to improve a website's SEO.
To customize a slug, include call-to-action words like "shop," "order," "get," and so on. Most global brands use customized short links as they make visitors click the links.
How branded links benefit your business:
1. Neat Social Networks
Social networks are stellar sources that have transformed from simple tools for sharing photos and news to massive advertising platforms. Nowadays, social channels offer enormous potential for brand promotion. Many successful companies have become famous thanks to social networks.
Pay close attention to what your company's profile looks like on social networks so as not to confuse visitors. The Instagram bio on eBay is an example of using a branded short link on social networks. The link has a branded domain and a configured CTA slug, which lets users guess the idea of the content and click the link.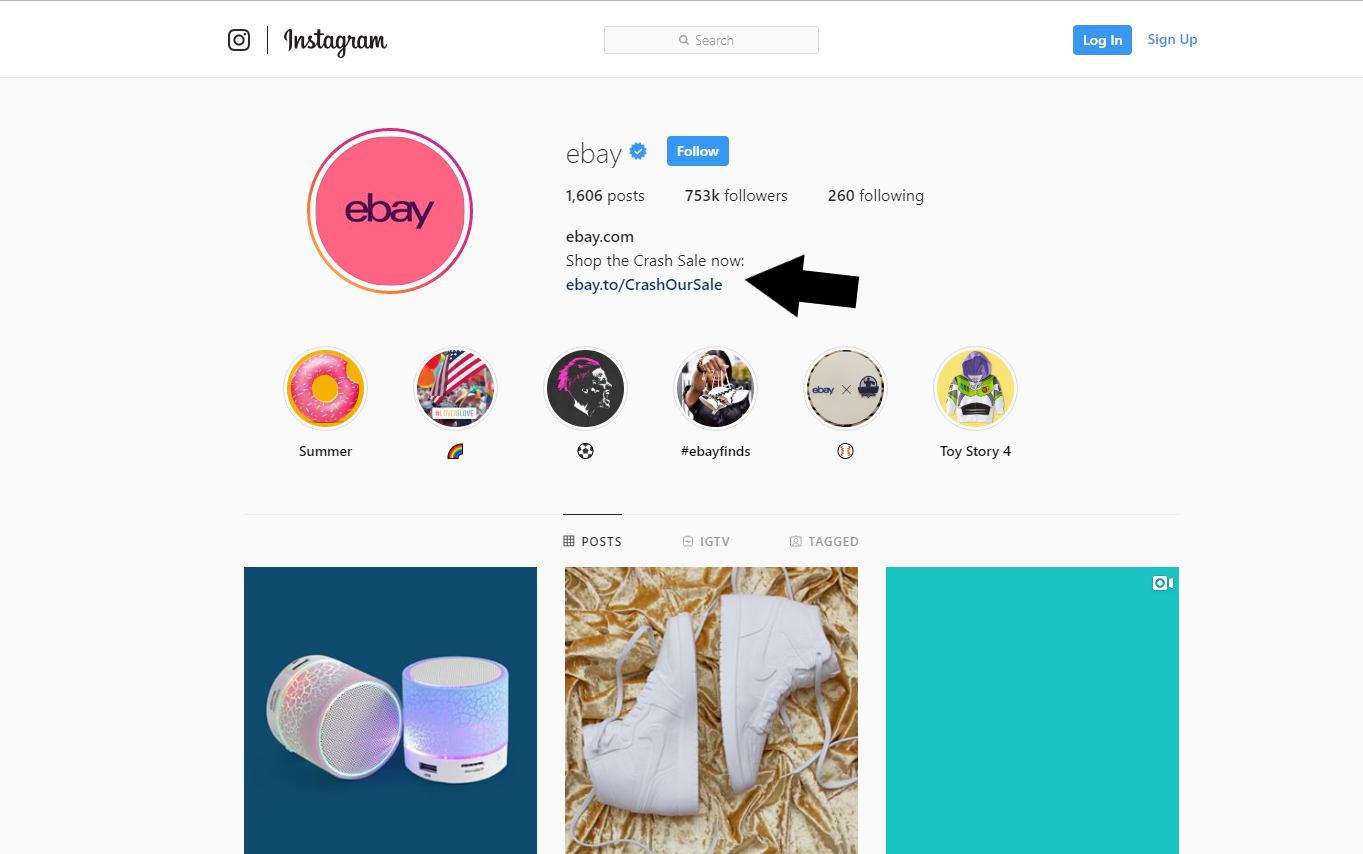 In addition to profiles' description, apply the short links for the posts. Short links are readable, engaging, and save characters.
A bad example on how to use links in social posts: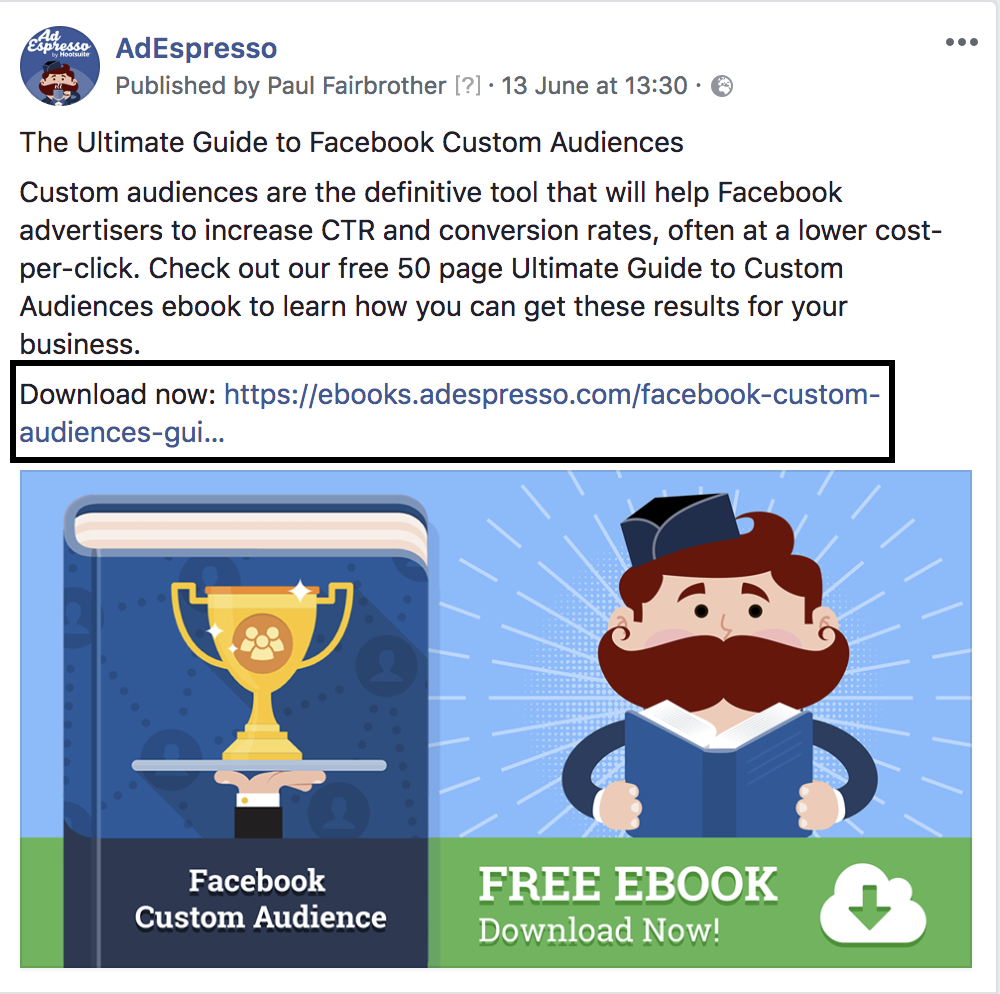 We hope that you agree that such a link isn't attractive at all. The link like "https://ebook.io/free-download" looks one hundred times cooler.
2. Growing CTR
The next advantage, which logically shadows the previous one, is the increasing click-through rate. A link displayed on an ad is the finish line of a potential buyer's journey. It will not spoil the efforts for the perfect ad, and will make the link look attractive. After seeing a customized link, the photoreceptor on the visitors' brain tells them to click the link, as it's trustworthy.
Remember to avoid generic shorteners to prevent the ad from being banned due to spam.
Compare the two Facebook ad examples. Which one do you think will reach higher CTR?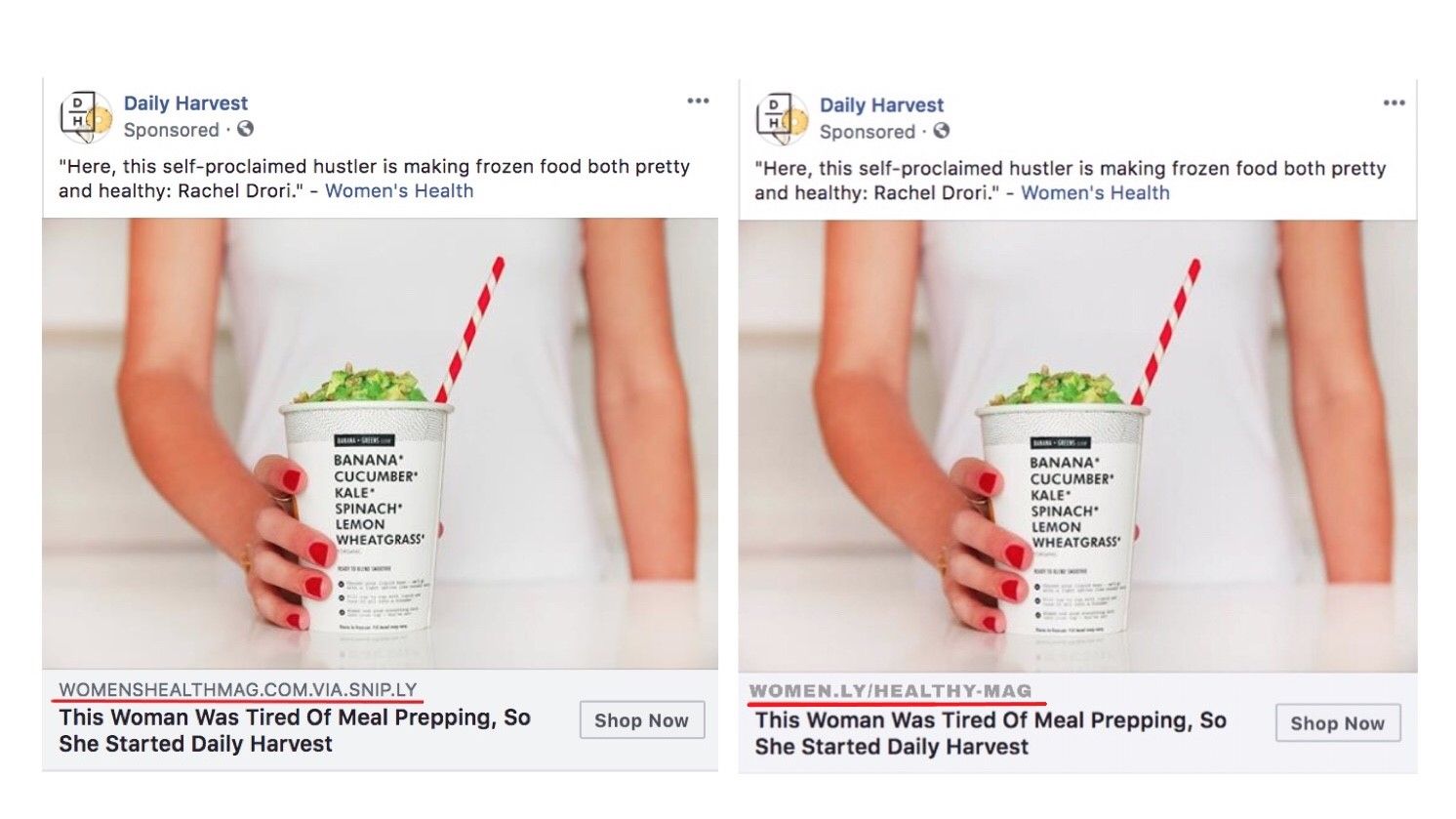 3. Improved SEO
By including keywords to the URL slug, you can get additional traffic thanks to improved SEO. When Google is searching for keywords, it'll consider your slug and rank the website higher due to appropriate key queries.
To pick the matching keywords for the slug, use the special services. With their help, you can get real statistics for initial requests. You can also bind queries to different geographic regions and get key combinations for the required set of words.
Google AdWords Keyword Tool establishes a list of relevant keywords for your online campaigns.
SEMrush is a global service that provides many advanced features. With SEMRush, you'll get Analytics Reports to dive deeper into your competitors' advertising, Traffic Analytics to understand your potential customers' behavior and media consumption, and Keyword Research to find the right keywords for SEO and PPC campaigns.
Key Collector has been designed to collect and organize keywords for your website. It can help you to get and choose the best ideas for your campaigns without making a special effort. Key Collector gathers data from many sources, such as Google Analytics, Google AdWords, and SEMRush.
A key query is an essential SEO tool that search robots use while ranking your content in search results. If keywords are well-optimized, robots will understand the topic of your content, which leads to better search positions.
4. Increased Email Delivery Rate
As spammers spoil most generic domains, the email operators ignore emails that contain a non-branded domain. Such emails are dead in the trash folder. Including a branded link to the email lets an email reach the recipient.
Short.cm has a free solution
Short.cm helps to avoid being blocked by Facebook when sharing a short URL. You can add up to 3 personal branded domains on the Free Plan. Branded domains are credible as users can see the brand name, which promotes a link. A personal domain belongs only to your company and cannot be compromised by spammers. So, your custom short domain is thoroughly approved by Facebook.
On Short.cm, you can either use an already-bought custom domain or buy a new one. The second option provides automatic domain activation.
---
The article is about:
why do you need branded domain
why does your business need url shortener
how short branded links benefit your business
shorten links, customize slug
Read also: